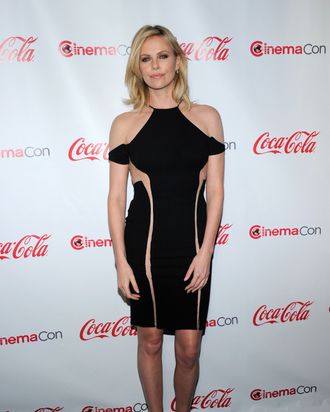 Actress Charlize Theron, recipient of the Distinguished Decade of Achievement in Film Award, arrives at the CinemaCon awards ceremony at the Pure Nightclub at Caesars Palace during CinemaCon, the official convention of the National Association of Theatre Owners, April 26, 2012 in Las Vegas, Nevada.
Photo: Ethan Miller/Getty Images
Seth MacFarlane's Ted follow-up A Million Ways to Die in the West has Charlize Theron's attention. She's in talks to appear as as outlaw's wife who teaches MacFarlane's character how to shoot after MacFarlane backs out of a gunfight and disgusts his girlfriend in the process. MacFarlane is directing, co-writing, and starring, and the words Blazing and Saddles are being mentioned.