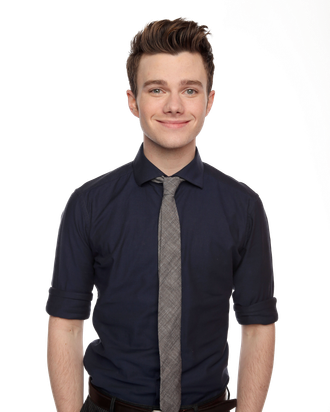 Chris Colfer.
Photo: Christopher Polk/Getty Images
Chris Colfer doesn't want to be, as he puts it, "the kid from Glee" forever — nor can he so long as Kurt is off at NYADA and not part of the main action on the show (which is back January 24 on Fox). So he's been focusing on his writing career, which includes writing books, TV pilots, and movies. He also stars in his first turn as a screenwriter, the indie film Struck by Lightning, which features the delightful Rebel Wilson as his sidekick at a blackmail-fueled literary journal. Colfer called up Vulture to chat about his co-star, his fear of public singing, and how he used to dress up as a boy wizard.
How lucky were you to get Rebel Wilson in the film before she had this banner year?
Right, seriously? I remember we cast her the night before we started shooting, and the fact that we got her is an absolute miracle. She was about to do Pitch Perfect, and she was so excited by that, by the way, that she was going to sing in the movie. Thank God that film did so well.
Did she explain the riff-off to you at the time? Did you try one with her?
Oh, no! I don't sing unless I have to. Or in the shower.
Seriously?
Honestly, singing is my biggest fear. I never participate in group singing activity.
Hello — Glee?
Okay, but I do that to conquer my fear, my fear of public singing, and I never actually do conquer it. Even on the live Glee tour, where we have to sing live every single show. I wish I did, but I just force myself to go out there, even when I'm shaking. It's so different to sing in the studio, to record a song with just you and the engineer. That I can do. What I would love is if it could just become muscle memory for me, but it's such a complex mindset, because I think about how the judgment is on me, and how I sound alone. It's nerve-racking. Being part of Glee is like being in musical-theater school, with people singing and doing duet-offs in between scenes. I just save it for on-camera.
Do you watch Ryan Murphy's other show, American Horror Story: Asylum? It's not quite the same era as the next movie you're planning, but some of their methods — electroshock and water therapy — are similar.
I am obsessed with that show! I watch every episode. And when I first found out about it, I thought, Crap! People are going to think I copied them or am inspired by them, but I wrote my movie a long, long time ago. Luckily, they're very different — no monsters, demons, or angels in mine. It's more how someone with mental illness was seen back in the thirties, how in some areas they might have thought you were demonic or possessed if you were actually mentally ill. If you had delusions of some kind, that really scared people.
So, where are you at with the film? When do you start?
I got a great phone call this morning that we're moving forward soon. It wasn't like Struck by Lightning, where I thought, If I'm to play someone in high school, we have to get this done now. This one, I thought we had more time, but we're going to start sooner than I thought. I wonder if I should tell you who the director is or what the title is, or if I should announce that later. I can tell you that the title is a Carl Jung quote, a popular quote of his that addresses the underlying story.
What have you learned from Struck by Lightning that you'll apply to the new film?
Not to get disheartened. When I was trying to get Struck by Lightning made, I was nothing but the kid from Glee. There were a lot of meetings where I walked away defeated. But I'm excited to get into the mindset of the character I wrote for myself, which is just a supporting role but so important. I'm vain, I'll admit it. [Laughs.] The doctor is the most crucial role, but it hasn't been cast yet.
Since you're now a best-selling author as well, are you planning a follow-up to The Land of Stories: The Wishing Spell?
Yes! I'm adding new characters, like Rumpelstiltskin, Mother Goose, and a lot of the classic villains from fairy tales that weren't in the first one. I just saw the final cover for it, and it is gorgeous. I purposely do not watch anything like Once Upon a Time, although I do read Gregory Maguire. I've read Wicked, Son of a Witch, and Confessions of an Ugly Stepsister, but I've not read A Lion Among Men. I do have a signed copy on my shelf, though! I wrote him letters as a kid, and he always responded. I mean, I grew up a huge bookworm. I would go to those midnight releases of the Harry Potter books.
Did you dress up? Carry a wand?
I always had a standard wizard hat and a black cloak. Sometimes I would put a scar on my forehead or wear glasses. I made all my own stuff, although now I can go to Whimsic Alley — you know, like Diagon Alley, but in L.A. — and go on a shopping spree and buy all sorts of crap that I don't need. Harry Potter was my number-one thing, and I loved every minute being a fan of those books. It was so great to immerse myself in that and bring a broomstick and have a night of dressing up as a wizard — and not be alone in that. I do that for superhero movies too. Anywhere I get to wear a mask, I'm in.