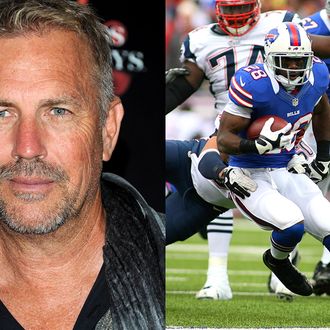 After Paramount Pictures ran out the clock on the NFL-endorsed football dramedy Draft Day last October, many in Hollywood gave up hope on the Kevin Costner project. 
But then, in December, the town had its own version of the NFL draft: the Hollywood Black List, the film industry's tally of the best unproduced screenplays circulating in Hollywood. And at the top of the 2012 Black List was none other than screenwriters Rajiv Joseph and Scott Rothman's coveted spec script, Draft Day.
Flying under the radar, Lionsgate Films quickly began talking with Draft Day director-producer Ivan Reitman about possibly making the film just as the town called its own annual time-out, with agents and producers and studio executives all scurrying to Kona and St. Barts for their sacrosanct two weeks of R and R. Now that Hollywood has sprung back to life, Vulture hears exclusively that the Draft Day talks are very much back on, and negotiations are expected to proceed apace between Lionsgate, Reitman, and — soon, we hear — Costner's camp to see about making the film. 
As you may recall, Vulture first broke the news of the NFL film back in October, when it was still a Paramount project that would have Costner starring as a fictional general manager of the perennially outgunned upstate New York team the Buffalo Bills. When the hapless team gets the first-round draft pick, its general manager must suddenly make all sorts of trades and sacrifices, both personal and professional.