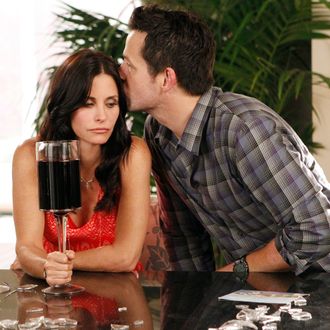 Photo: Jordin Althaus/ABC
The Big Bang Theory is taking over the world. On a Tuesday night that saw a ton of original cable premieres — Cougar Town, Justified, Pretty Little Liars — a repeat episode of Chuck Lorre and Bill Prady's nerd-com beat everything on cable as well as most of what aired on the broadcast networks. TBS's 9:30 p.m. BBT drew 3.8 million viewers and averaged a 1.8 rating with folks under 50. That sort of helped Cougar Town, though not as much as TBS might have hoped: The ABC import lost about 40 percent of that lead-in, averaging a 1.1 in the demo and 2.2 million viewers. That's not a bad number and is in line with what other TBS original comedies have done behind BBT; however, it's also not the kind of eye-popping Nielsen rating that would make another TBS season of Cougar Town a no-brainer. In fairness, the Cul-de-Sac Crew faced some fierce cable competition Tuesday.
Over at FX, Justified scored a strong 3.6 million viewers and notched a 1.3 rating with viewers under 50, easily winning the 10 p.m. time slot among cable networks and beating ABC's departing Private Practice in the younger demo. MTV's second season of Snooki and JWoww also, er, wowed: Its 1.1 under 50 rating tied Private Practice (and Cougar Town), while the show's 2.6 rating with women under 35 beat every show on broadcast Tuesday other than Fox's New Girl. Earlier in the night, ABC Family's megahit Pretty Little Liars averaged a 1.4 with viewers under 50, beating Tuesday network fare such as The New Normal (1.3) and Ben and Kate (1.2). But where PLL dominated viewership was with ABC Family's target audience of women under 35: The series drew a 3.5 rating with young women, beating every show on cable Tuesday — and every show on the broadcast networks. PLL is so powerful with women under 35 that a 10 p.m. repeat of the drama beat original episodes of Private Practice and CBS's Vegas in that demo.