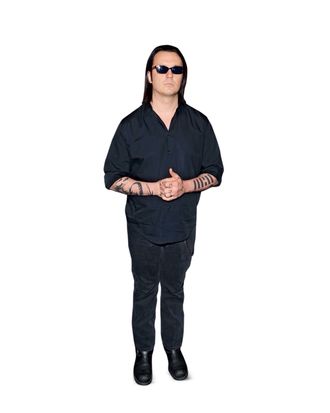 Photo: Jimi Celeste/Patrick McMullan
I thought it was gonna be one of those grungy places in the Village or something that has, like, shelves full of glass dildos," recalls Damien Echols of his first visit to Sacred Tattoo, just north of Canal. "You know—come in for a tattoo, leave with hepatitis. But I was amazed."
Wearing prescription sunglasses and dressed in all black, Echols, the alleged "ringleader" of the so-called West Memphis Three, looks around the polished, welcoming space. "After prison, this is the first place I started making friends," he says with a lilting Delta drawl. "Nobody asks about the case. Nobody cares."
In prison, Echols says, tattoos were a kind of armor; when he fell in at Sacred after getting out, he ended up with multiple new ones, bringing his total to "around 30." And though he's unlicensed and inexperienced, lately he's been giving them as well. "People here started posting on Twitter and Instagram and stuff," he says. " 'Look what I did today! I just got some sort of permanent fucked-up mark by Damien Echols.' "
Echols is a painter—an exhibition of works he did in prison using Q-tips and pen cart­ridges just opened at Sacred's in-house gallery—but the only body art he can manage is a simple X. "They all make fun of me. Like, what if someone comes in and goes, 'I really wanna get this portrait of my daughter done.' And I'm like, 'Nah—you want an X.' Or somebody says, 'I really want this, like, field of roses.' And I'll say, 'Nah—you want a field of X's.' "
When he was 18, Echols, now 38, was sentenced to death by lethal injection after he and two other teenagers were accused of murdering (and mutilating) three boys in their Arkansas hometown. The 1996 film Paradise Lost: The Child Murders at Robin Hood Hills—the first in a series of three—chronicled the ludicrous trial, revealing a charismatic, intelligent goth-misfit targeted by self-serving Bible Belt prosecutors and convicted with hardly any strong evidence.
The movie made the West Memphis Three into a fashionable cause and Echols into a celebrity of sorts. Johnny Depp, Patti Smith, and Eddie ­Vedder got involved; a Brooklyn woman fell for him, married him, and rearranged her life to help him; and Peter Jackson and Fran Walsh funded a superlative new defense team and DNA testing. And in 2011, ­after eighteen years in prison, Echols and his co-­defendants entered an obscure "Alford plea"—meaning, more or less, that they pleaded guilty but maintained ­innocence—which got them out of prison, but not exonerated.
That's where Amy Berg's documentary West of Memphis comes in, presenting new evidence pointing to another suspect. The movie had a limited release Christmas Day, with a national rollout starting January 11. "We want the guy who did this shit to be in prison, and the guys who did this to us to be held accountable," says Echols, who has spent the past four months promoting the film alongside his new book, Life After Death. "But you feel like a specimen being studied. I'm so tired of it. I've started actually vomiting and dry heaving after photo shoots."
Tattooing is different. "It's psychologically and emotionally soothing. You're talking, you're laughing, you're joking," he says. "You may be tired if you've done ten of 'em, but it's a good kind of tired. You're giving something out, but it's an exchange." After discussing his plans for a meditation and wellness center—on death row, he used holistic techniques to deal with pain—he agrees to give me an X of my own.
I climb onto the table, and we summon Nick Wilcox, a close friend and licensed tattoo artist (legally, one must be present). Echols snaps on a pair of black gloves ("These make me feel like I have a latex fetish or something"); I expose my left hip and he gets to work.
It feels a little strange. With each Paradise Lost installment, I watched him grow increasingly compassionate while wasting away; locked up in solitary confinement, he might as well have been on Mars. Now in good spirits, he's here injecting pigment into my thigh.
With us today is Brandie Perez, 19, wrapped in a skull-print scarf and visiting from Florida to meet her "hero." I bring up his robust, often poetic Twitter feed, where he affectionately addresses his followers as chupacabras. They're generous: "I get so much stuff: crystals. Boots. A jar of mayonnaise. One time, a woman in the street gave me a painting she made. From the waist down, it's a horse; from the waist up, it's me. I said 'Thank you' and kept going." He turns to chupacabra Perez. "You gave me a bag of jack-o'-lanterns once."
An onlooker points out that his lines are getting straighter. "An accomplishment!" he exclaims. "Usually when I draw it on before we begin, it's just a general idea of where the tattoo's going to be."
He finishes my X and tapes an excessively large square of plastic wrap to my hip; Wilcox chides him for being wasteful. "It's a sign of my greatness," replies Echols.
"Wrapped up like a present and everything,"
says Perez.
Echols agrees: "Britches on, and you are done."
*This article originally appeared in the January 14, 2013 issue of New York Magazine.