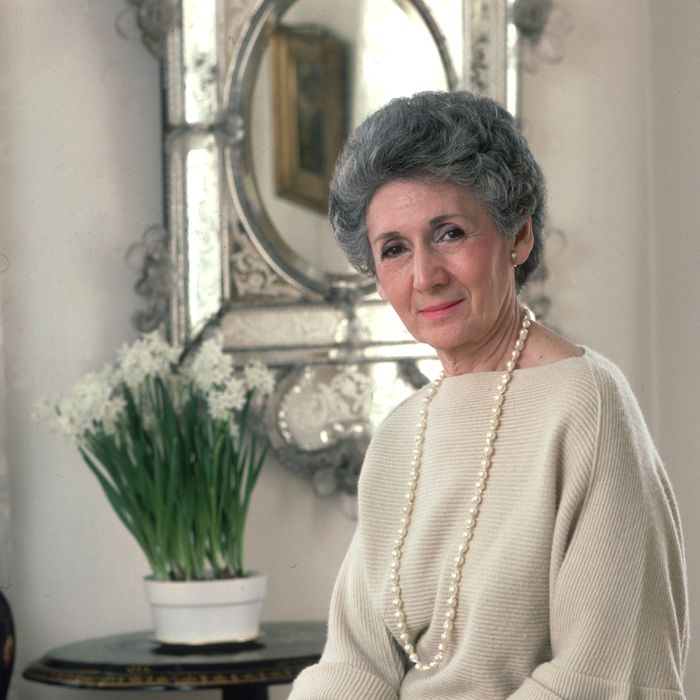 Huxtable in 1986.
Photo: Nancy R. Schiff/Hulton Archive/Getty Images
In the early sixties, Ada Louis Huxtable marched into the pages of the New York Times, armed with a fierce love of architecture and a fine sense of when it was being abused. As the paper's first architecture critic — the first at any big American newspaper, in fact — she articulated the belief that if you're going to erect a building, you have a moral responsibility to make it good. The New York she left behind when she died yesterday at 91 was shaped in part by that conviction.
It's hard to remember today, when nearly every building proposal provokes a public battle, that she started her career in a far meeker city. Developers, planners, architects, engineers, corporate clients, and politicians built, tore down, and remapped the city, and few had the clout or the confidence to challenge them.
Huxtable was not impressed. "The style of the Kennedy Center is Washington superscale, but just a little bit bigger," she wrote. "Albert Speer would have approved." Nobody in the business of building things was accustomed to such assaults, and certainly not from a journalist, a generalist, or a woman. But she was not actually hostile to their enterprise. She watched the city grow modern, and she loved it. She was passionate about preservation, too, as a counterweight to thoughtless development. She didn't care what fortunes, years, promises, or reputations had been poured into a design; she cared about honest talent, scrupulously applied.  
That Huxtable was the first architecture critic at a major U.S. daily wouldn't have mattered so much if she hadn't also been the best. At 90, she was still writing circles around the rest of us. She wielded language with a miniaturist's precision and constructed her pieces with a bridge-builder's insistence on getting smoothly from here to there. Many critics start from an intuition and then hunt for evidence to support it. Huxtable made her way toward an opinion slowly, through logic, homework, and experience. By the time she was ready to unleash her Maggie Smith–like missiles or proclaim the arrival of a new monument, she had engineered a virtually impregnable argument. A few weeks before she died, she wrote in the Journal that the plan for renovating the New York Public Library was "devised out of a profound ignorance of or willful disregard for not only the library's original concept and design, but also the folly of altering its meaning and mission and compromising its historical and architectural integrity." Try disagreeing with that. I did, with silent apologies.