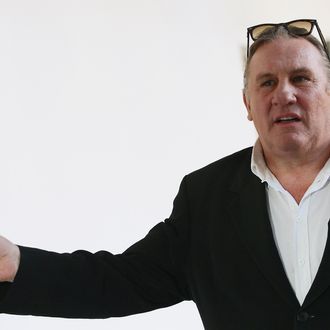 Photo: Vittorio Zunino Celotto/Getty Images
French actor Gerard Depardieu, who just abandoned France over government plans to raise income taxes on the rich, is getting a real hero's welcome in Russia, where everyone pays a flat tax of 13 percent. Depardieu's citizenship request was granted last week; on Saturday, Russia's newest Russian arrived at Vladimir Putin's place in Sochi (the site of the 2014 Winter Olympics.) After Putin handed Depardieu his new passport, the two reportedly shared a meal and discussed the actor's starring role in a Rasputin biopic. Depardieu's tour of the Motherland continued on Sunday, when he flew to Saransk, a small town east of Moscow. There, the governor greeted him with the offer of a free apartment or land on which to build a house. The area is apparently best known for its "harsh prisons," but it sounds like Depardieu's visit was very pleasant:
"Waving the new document, he was welcomed to Saransk by women wearing national costumes and served blini — traditional pancakes. He was also presented with a pair of felt boots and two kittens."

"I am very happy, it's very beautiful here, beautiful and soulful people live here," Interfax quoted him as saying.
Meanwhile, back in France, budget minister Jerome Cahuzac called Depardieu's decision to exile himself "a bit pathetic," though he was sure to add that he still "[admires him] infinitely as an actor."