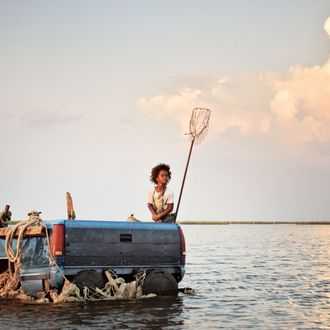 Beasts of the Southern Wild
Photo: Fox Searchlight
It was a comparatively strong year for studio Oscar bait this year. So when today's Academy Award nominations were announced, many in Hollywood were surprised to see more esoteric fare like the micro-budgeted Beasts of the Southern Wild and the French-language Amour nestled in the top categories amid more staid, conservative studio stalwarts like Steven Spielberg's Lincoln and the latest iteration of Les Misérables. One studio marketing chief and Academy member has a theory: Many in the famously older voting majority of the Academy, which is usually not crazy about edgier fare, were likely confounded by this year's new electronic voting system. So while their voting bloc usually swings the decision, the marketing chief wonders if this year the nominations were tipped "in favor of younger voters who had an easier time using the technology."
In the past, Oscar voting has been compiled only via paper ballots sent in by U.S. mail, but for the first time ever, Academy voters could choose between voting online or mailing in their ballots. To say that the online voting didn't go smoothly with older AMPAS voters is an understatement: On December 31, the Academy extended the January 3 voting deadline by a day amid reports of older Academy members having great difficulty casting their ballots online. And by "older Academy members" we mean "almost all of them." A 2012 study by the Los Angeles Times found Academy voters have a median age of 62, with members younger than 50 constituting just 14 percent of the roughly 5,800-member club.
"As soon as I entered the code into my home computer," says our online-voting AMPAS member, "and I mean that second, my home phone rang, giving me the second code I needed to enter into the computer to vote online. I didn't have a problem, but if I were 70, it would have scared the shit out of me. I can see how it'd be a super-confusing thing. They [AMPAS] can't admit to any of that, but I think we're looking at a Marissa Tomei cloud on this one." It was in fear of just such a controversy that the Academy moved the online voting deadline to Friday, January 4, but just one additional day may not have been enough time to clear up the confusion.
It's unclear if and how many older members even attempted to vote online as opposed to opting for the paper ballot right away. (The Hollywood Reporter observed some voters heading to the Academy at the last minute to file by paper.) Academy COO Ric Robertson said in a statement earlier this month that 2013 voting "patterns" have been "consistent" with past elections; calls and e-mails to the Academy's press office seeking to ascertain the specifics of voter turnout were not returned at deadline.*
So was it the e-ballots that swayed things from the hip crowd to the hip-replacement crowd? If so, as our AMPAS member says, it's resulted in the "most interesting [Oscar] race in years."
* The post originally said that the DGA awards voting was done via paper ballot. However, the DGA actually voted solely online this year.