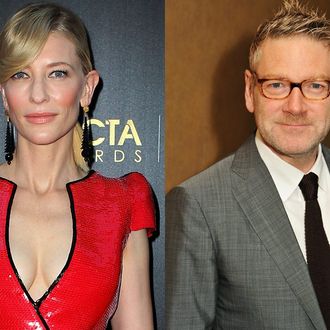 There was a slight risk of the project turning into a pumpkin before midnight, but Disney may have found the charming prince to save its planned adaptation of Cinderella — and, as you might expect, he comes replete with an English accent: Just three weeks after original director Mark Romanek decamped, a fairy godmother tells us that Disney is negotiating with Kenneth Branagh to keep the film on track to start shooting in London this fall.
We're also told that The Hobbit star Cate Blanchett will remain in the movie as the wicked stepmother, though the production is still looking to find the right fit for its main role.
Clearly, public-domain fairy tales aren't going away. Produced by Elysium producer Simon Kinberg, the Disney project was originally set up in 2011, after Disney had made a billion dollars from Tim Burton's Alice in Wonderland with a script from Devil Wears Prada writer Aline Brosh McKenna, though we hear the latest Cinderella draft comes from Twilight: New Moon director Chris Weitz.
If all goes according to plan, Cinderella could be in theaters in 2014 — exactly a hundred years after Mary Pickford played the role for Paramount Pictures, in Hollywood's first adaptation of the ancient tale.