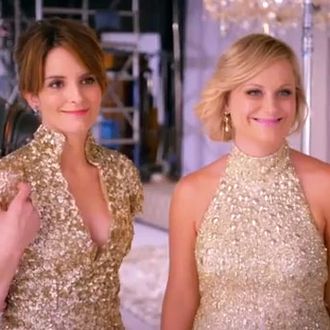 It is not enough to just tell some funny jokes at an awards show; no, you have to dance and perfect your old-timey voice and somehow make sure that everyone at home gets hammered by 9:30 thanks to the obvious but still-sorta-fun-until-someone-pukes drinking games they've devised. Please know that Tina Fey and Amy Poehler have it covered — so much so that the co-hosts wrote rules for their own 2013 Golden Globes Drinking Game (at the behest of The Hollywood Reporter.) They are as follows:
Drink any time an actress cries in a speech.
Drink any time you see a person actively not listening to someone onstage.
Drink any time someone says, "I didn't prepare anything!"
Eat a meatball sub any time someone thanks Harvey Weinstein.
Take off an article of clothing any time they show Judi Dench.
Take off an article of clothing any time Maggie Smith wins.
So, see you drunk and sockless on Sunday. BYO meat products.