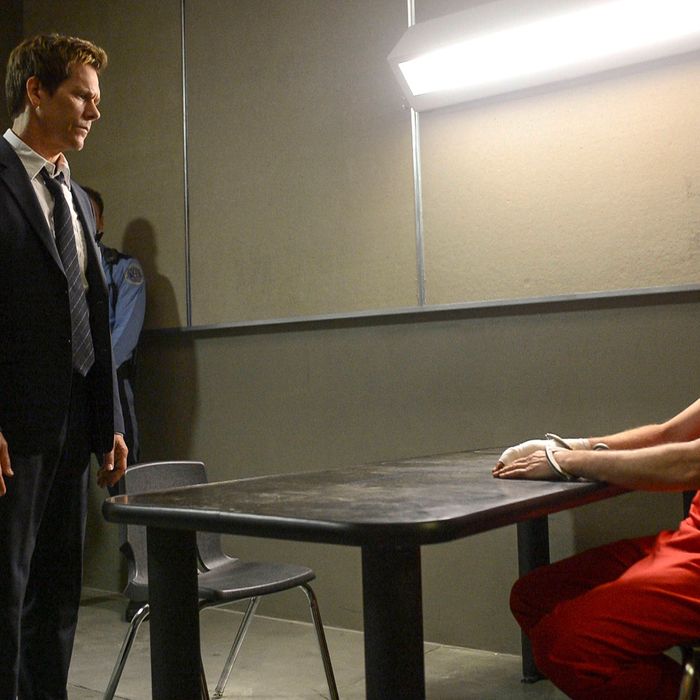 THE FOLLOWING: Former FBI agent Ryan Hardy (Kevin Bacon, R) is brought in to help solve a crime in the new drama THE FOLLOWING premiering Jan. 21 (9:00-10:00 PM ET/PT) on FOX.
Photo: David Giesbrecht/FOX
After years of cursing the commercial-skipping devil machine known as the DVR, at least one broadcast network has finally decided that resistance is futile. Without any fanfare, Fox has been hyping tonight's series premiere of Kevin Bacon's serial-killer series The Following by having the commercial announcer bellow, "Set your DVR now!" in addition to mentioning the live air date of Monday at nine. The same suggestion can be found in the network's print ads, billboards, and bus ads for the show. This might not seem all that radical, but it sort of is: Networks really want you to watch their shows in real time, and until recently, they've been reluctant to do anything that might encourage delayed viewing. It took a really bad fall season for Fox and most of the broadcast networks to get them to start acknowledging the DVR as a viewing option. Because, hey, better to encourage that than have people torrent it.
According to Fox chief operating officer Joe Earley, as the network pored over the ratings for its new shows this fall, one trend stuck out in a big way: While new Tuesday comedies Ben and Kate and The Mindy Project were holding onto most of their respective Raising Hope and New Girl lead-ins when it came to live viewing, the newbies suffered big drop-offs when same-night DVR playback was factored in. In other words, people who watched Fox's Tuesday the old-fashioned way — commercials and all — were sticking around throughout the evening, showing they liked (or were at least sampling) the new shows. "We knew that there was flow," Earley says. The problem is that almost one third of all viewers who watch Hope and New Girl on Tuesday nights do so via DVR. Because they're not just sitting back and watching whatever show is up next, Ben and Kate and Mindy basically don't even exist to them. "We came away thinking people weren't rejecting these shows. They just weren't watching them," Earley told Vulture. "We began talking about how we might be in a new world where we had to tell people to set their DVRs."
The decision to start pimping DVR recording didn't come easily. As noted, Fox still prefers that you watch their shows live, or as close to live as possible. Live viewing is best because it increases the odds you'll stay tuned for whatever's up next on the network, be it another sitcom or drama or the late local news. Another concern about hyping DVRs centered on Fox not wanting to annoy its affiliate stations: There's a lot of data to suggest that DVR playback spikes in the 10 p.m. hour, when most Fox affiliates air local newscasts. By potentially increasing DVR recordings, Fox theoretically could be siphoning away viewers from those newscasts.
However, advertisers still pay networks for viewership that happens within 72 hours of a broadcast, which is why networks are okay with time-shifting as a second-best alternative. Rather than begin blanketing its airwaves and ads with Love Your DVR public service announcements, Fox suits decided to experiment, using The Following as guinea pig. In addition to being Fox's next new series launch, it's also a highly serialized program that won't be easy for viewers to simply jump into midway through its run. "We want people to be there from the beginning of the series," Earley explains. "We don't necessarily want to encourage people to delay viewing. But we also don't want them to miss it." Fox began the DVR messaging about two weeks ago, just as The Following started showing up in electronic program guides. (The network didn't want to tell people to set their recorders if channel guides weren't displaying a listing for the series). However, Fox took out most of the DVR touts starting this past weekend: As tonight's premiere drew closer, Fox wanted its messaging to encourage folks to check out the show live, Earley says.
Fox appears to be the first broadcast network to incorporate DVR messaging into a promotional campaign for a new series, but it could become more common as time-shifting continues to impact how we watch TV. Indeed, just last month, another Rupert Murdoch holding — Fox News Channel — quietly began running on-air promos suggesting viewers use their recorders to ensure they never miss the wacky hijinks of Sean Hannity or the comedy stylings of those cards on The Five. (Despite the corporate connection, Earley says he wasn't aware of Fox's ads when he began planning his network's campaign for The Following.) Fox has also attached "DVR it" tags to a limited amount of its on-air promos for The Mindy Project and Ben and Kate. To gauge the success of the campaign, Earley says he'll be looking to see if more people DVR episodes of The Following than the typical first-year drama. But even if evidence suggests the scheme is working, don't expect to see DVR reminders for older, already established series like American Idol or The Simpsons. "We're not trying to drive viewership to DVRs," Earley explains. "We still want the viewing to happen live. Our new slogan is not going to be 'We're Fox, Set Your DVR.'"