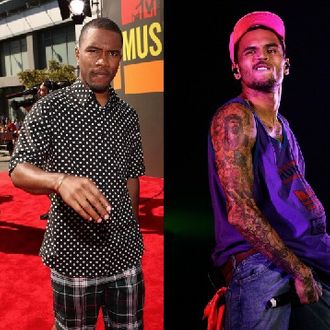 Frank Ocean, Chris Brown.
The tale of Chris Brown and Frank Ocean's scuffle outside an L.A. recording studio has evolved considerably in the last 24 hours. While TMZ originally reported that the first punch was thrown by one of Ocean's people, now they have  a new version of events. A source says Brown tried to shake Ocean's hand, Ocean "simply laughed at the gesture, and Chris was so pissed he coldcocked Ocean and started an all-out war," which moved to the studio's lobby and reportedly trashed the place. Brown and co. were gone by the time police arrived; Ocean remained and is "desirous of prosecution," the L.A. County Sheriff's Department's Steve Whitmore tells the New York Daily News. Whitmore added, "We'll find out what happened." Meaning we will too! Probably. (Maybe?)
Ocean hasn't posted anything online since his two brief, informative tweets on the subject. Kind of impressive, considering how rabid Team Breezy tends to get toward anyone who fails to play nice with their messiah. Speaking of saviors, though, Brown Instagrammed a super-buff Jesus Christ on the cross and wrote, "Painting the way I feel today. Focus on what matters!"
Onto the implications: Brown remains on probation for his 2009 assault against Rihanna, so that could become a problem. (He emerged legally unscathed from last year's bottle-chucking battle against Drake since no charges were filed.) The Post writes this new incident is "expected" to cancel Brown's rumored performance at the Grammys alongside Rihanna on Feb. 10. EW reminds us neither Brown nor Ocean — who tweeted "cut my finger now I can't play w two hands at the grammys" — are officially confirmed performers for the show. Sources tell EW the brawl wouldn't impact the telecast regardless. Brown and Ocean are both nominated for Best Urban Contemporary Album, alongside Miguel. Ocean is also up for just about every major award, including Album of the Year, Best New Artist, and Record of the Year.