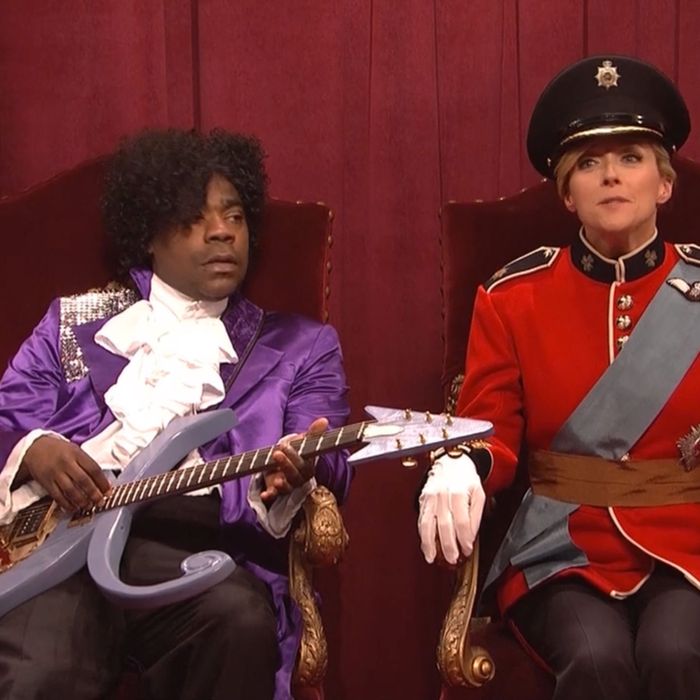 Way back in 2010, just as season four of 30 Rock was about to premiere, we put together this exhaustive list of TGS sketches that included such classics as "Gaybraham Lincoln" and "Hot Baby." In the 78 episodes of 30 Rock that have aired since, TGS veered away from gay presidents and sexy infants to deliver biting commentary on menstruation and farts. With TGS coincidentally ending its run the same night that 30 Rock does, we thought it appropriate to update the list of sketches from 30 Rock's eighth-best show-within-a-show (behind MILF Island, Bitch Hunter, Celebrity Homonym, Dad 2.0, and a few others). 
Pam, the Overly Confident Morbidly Obese Woman
Cat Lady, in which Jenna is attacked by a recently rescued cat
Michael Jackson, cut because they "can't say he has a vagina."
Biscuit
Rolando, the Two-Foot-Tall Spanish Hustler
Ching-Chong, Man Who Loves to Play Ping-Pong
Bear vs. Killer Robots
Toofer's commercial parody ideas: Honey Bunches of Sadness, Oat-Bung, Swastic-Os, Fruit Lupus, Dingle Berries, Fart Nuggets, Frosted Mini Guns, and Lucky Bastards
Beep Beep Ribby Ribby
Who Wants to Eat a Dictionary?
Homophobic Gays
Gaybraham Lincoln
"Muffin Top" Performance With Ghostface Killah
Liz Taylor
Shemanda: "Rodney, don't make me come over there and make me beat you with one of my boom booms."
Star Jones's Gastric Bypass Cooking Show
"Yo Momma" Competition
Lutz's Hobo pitches: Hobos on Ice, America's Next Top Hobo, Hobo Eye for the Straight Guy, Deal or No Hobo?, and the Amazing Hobo
Dennis Hastert Farting
Lamazwell: Lamaze Class Meets Roswell
Bill Clinton Eating Hamburgers
MTV Darfur
Hot Baby
Cowboy Hey Hey
Me Want Food
Fat Hillary Clinton
A Lone Man on Mars in the Year 1861
Barry the Humping Dog, Searching for a GE Washer and Dryer
The Farting Lab Experiment/Robot ("It's farting, it's farting." —Tracy)
Swear Masters
Rapping Obama
The Bear and Robot Talk Show
Rapping Suri Cruise
Farting Machine
Cold open about Omarosa borrowing Björk's swan dress
Rubik's Pube
Tracy playing Josh Groban
Robot Lorenzo Lamas
Robot Ryan Seacrest
David Hasselbot
Grizzly Adams sketch
The Empire State Building is controlling us with electricity
Fart Doctor, where fart doctor has to figure out who farted in a spelling bee
Would You Rather?
Jerry Bananaseed
Fox News parody
Dr. Oz parody, with Tracy as Oprah
Austin Powers on Crossfire
Amelia Earhart gets her period  
Hillary Clinton gets her period
Wonder Woman gets her period
Broken Eyboard Ock Show
Derek Jeter and Bruce Springsteen kissing
Talk show/game show sketch My Head Hurts, inspired by a gas leak
Black Lance Ito
President Flava Flav
Gassy Patsy
A sketch about Krang from TNMT
Macbeth, with Mayor McCheese
Tracy wearing a robe and glasses saying "Yuck!"
Tracy dressed as a duck saying "Duck!"
Prince William and Prince, Time-Traveling Fart Detectives
Black Hitler
Tracy as GOP vice-presidential candidate Bob Dunston
Baseball Mitt Romney
Barack A-Llama
What if the Jolly Green Giant was horny?