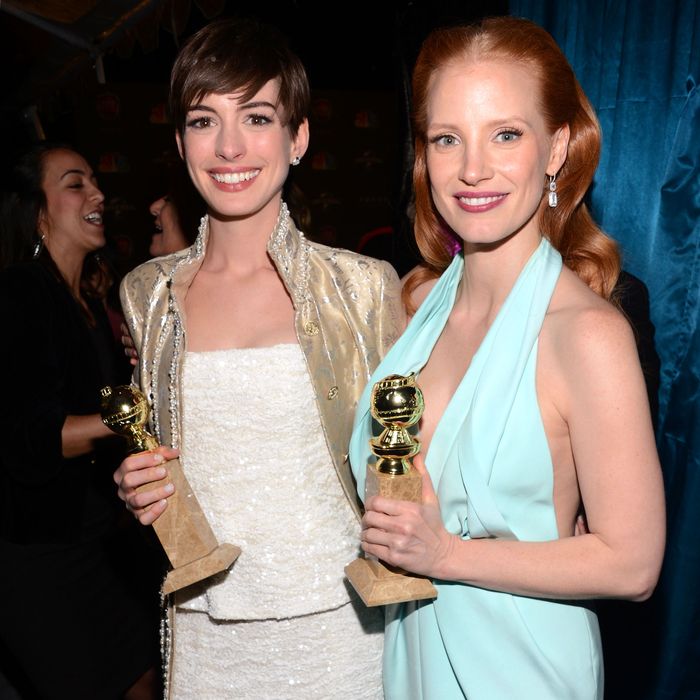 Anne Hathaway and Jessica Chastain.
Photo: Jason Kempin/2013 Getty Images
Now that you've reviewed the highs and lows of the Golden Globes and debated Jodie Foster's speech at length, it's time to turn your attention to what went down before and after the ceremony at the many booze-filled GG parties that took place this weekend. Vulture dispatched a team of L.A. reporters to attend five of them, their mission to eavesdrop and observe, then report back on who was hanging out, making out, and getting Glenn Close'd.
Friday, January 11: W magazine's party

9:16 p.m. Lana Del Rey, wearing her most serious Lana Del Rey face, huddles next to a terrace heater at the Chateau Marmont.

9:18 p.m. Chelsea Handler and Chateau Marmont owner André Balazs make out on the dance floor. The crowd backs up around them and someone lets out a hoot, but you can't exactly tell the guy who owns the place to get a room.

9:24 p.m. Handler pulls Balazs over to meet Downton Abbey's Michelle Dockery and Dean Winters. If only the Dowager Countess were there to reprimand them for that PDA.

9:27 p.m. With a "Brr, it's cold out here!" Rodarte designer Laura Mulleavy rubs down Kirsten Dunst's shoulders. The two huddle as Dunst smokes a cigarette and chats with her On the Road co-star and boyfriend, Garrett Hedlund.
 
9:40 p.m. Marion Cotillard pinches a friend's butt to keep her moving toward the door.

10:19 p.m. "It's slowing down, celeb-wise," one photographer says just before Helena Bonham Carter walks in and lifts the energy of the room. She hugs and kisses everyone in her path, including Damian Lewis. She is wearing matching shoes.

10:35 p.m. With a ringing "Helena!" Damian Lewis takes Helena Bonham Carter's hand and leads her outside.
Saturday, January 12: BAFTA Tea Party 
3:02 p.m. Jennifer Lawrence enters the room and immediately makes a beeline for Kara Hayward, the young girl from Moonrise Kingdom. "You!' she shrieks with glee.

3:05 p.m. After a spirited conversation where Lawrence fan-girls out over the Moonrise actress, she walks away and asks Vulture, "How old is she? I was so impressed with her being a child, and then I started talking to her and I thought, Oh, you're older than me." Actually, the precocious Hayward is just 14, we tell her. "Back to feeling bad about myself," she cracks.

3:08 p.m. Lawrence says she's already reteamed with her Silver Linings Playbook co-star Bradley Cooper for Susanne Bier's drama Serena. "We're married in this one. We're not playing games," she says. "We're very much in love, but then I lose my baby, and I start to become someone he doesn't recognize." She's clearly energized when talking about it. "I'm crazy about the character. She's absolutely terrifying."

3:35 p.m. Benedict Cumberbatch hangs out with a gang of fellow Brits, including Thandie Newton and her husband, Best Exotic Marigold Hotel screenwriter Ol Parker.

3:49 p.m. Screenwriter Danny Strong confirms that, yes, he will be working on the sequel to Game Change, but "we don't know what that is yet!" He's still waiting on a completed galley of the book it'll be based on.

3:55 p.m. Don't try to get a comment from Harvey Weinstein. "I'm not even working today!" he claims as he rushes out of the ballroom.

4:01 p.m. Kathryn Bigelow is no shrinking violet after her Oscar snub: She strides across the room in a dramatic orange dress and brown, thigh-high boots.

4:30 p.m. A well-wisher hits up Ben Affleck about, you guessed it, the Snubs. "I have various theories … " replies a cagey Affleck.

4:40 p.m. Tim Burton and Helena Bonham Carter enter, though HBC never gets past the antechamber. Eventually, Burton returns from the ballroom to stand at her side, placing a hand at the small of her back. Those two.


Sunday, January 13: After-parties hosted by HBO, 20th Century Fox, and NBC/Universal
8:20 p.m. Outside the Beverly Hilton, John Krasinski and Emily Blunt rush down Wilshire Boulevard on a mission to reach their car. We ask why they are leaving so soon. "We're just done for the night," Krasinski said. Homebodies!

8:45 p.m. Emma Roberts and Evan Peters, in line to get into one of the many parties inside the Hilton, do what any young, hot couple would do to kill time: make out! With some light groping.

8:51 p.m. Sasha Baron Cohen talks his way out of the long line. The security guard seems charmed. Isla Fischer, his wife, seems embarrassed.

9:10 p.m. At NBC/Universal's party, Sally Field tries to politely exit a conversation with a woman who is a foot taller than she is, but apparently lacks the charm of Abe Lincoln.

9:15 p.m. "I am so grateful to my man!" Breaking Bad's Betsy Brandt tells us. Said man is carrying her shoes as she rushes down the steps to enter the HBO party.

9:30 p.m. Zooey Deschanel arrives at NBC/Uni holding her boyfriend James Linden's hands above her head (so he's walking behind her). Emily Deschanel is with them and seems to have recovered from Jodie Foster's speech.
9:40 p.m. Jessica Chastain, her hair still fiercely sprayed, makes a beeline for the Les Miz tables. She and Anne Hathaway stage a faux swordfight with their award statuettes.
9:45 p.m. Chastain has what appears to be an intense conversation with Tom Hooper and Hugh Jackman. Anne Hathaway is probably seething.
9:48 p.m. Hathaway heads out, stopping on the carpet to kiss husband Adam Schulman one last time for photographers. Okay, not seething.
9:53 p.m. A very hoarse, jacketless Jon Hamm stops film critic Leonard Maltin for at chat at the Fox party's valet line. (The Mad Men star had given his coat to girlfriend Jennifer Westfeldt.)
 
10:02 p.m. Grey's Anatomy and Scandal boss Shonda Rhimes rings in her 43rd birthday. That reminds us: Hey, HFPA! Kerry Washington needs some awards love.
 
10:15 p.m. Inside the party, the D.J. plays "Gangnam Style," prompting Damian Lewis to declare, "Oh, we gotta do this!" He recruits a finally not so sad Chris Brody for the occasion. We took this blurry photo as proof.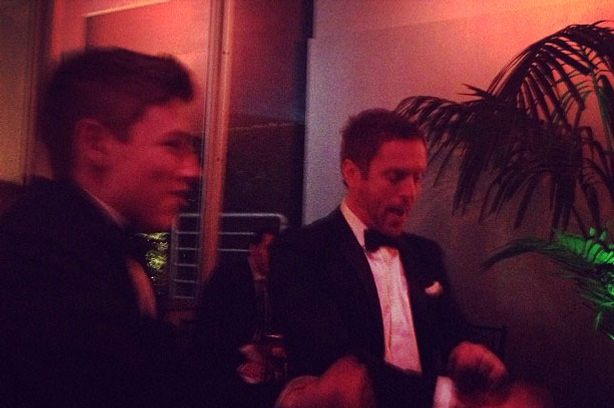 10:23 p.m. What would the Dowager say about Downton Abbey creator and executive producer Julian Fellowes pausing a civilized conversation to dance to "Push It"? At least he was wearing his dinner dress shirt.