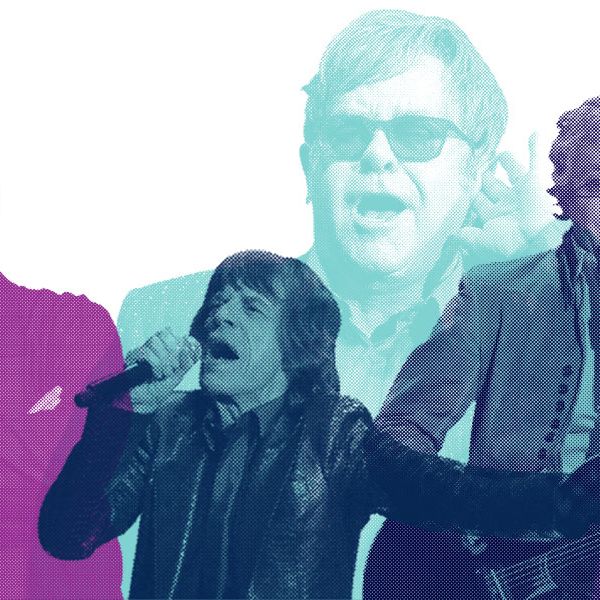 All the Billy Joel completists who have been biting their nails since 2010's compilation, The Hits, finally have a reason to spend more of their Joel-reserved cash: Yesterday saw the release of the singer's She's Got a Way: Love Songs, his eighth greatest-hits compilation. Which means Joel obsessives (what do they call themselves, Piano Men? Glass Housemates? Brendas and Eddies?) can now own their sixth copy of "Just the Way You Are" not including its original release on The Stranger. This may seem like overkill, but classic-rock fans don't seem to mind paying for repetition. Two weeks after the Rolling Stones released their twelfth greatest-hits collection, GRRR!, last November (enlivened with two new tunes), the album peaked at No. 19 on the Billboard 200, No. 8 on Rock Albums, outsold every other album on the market in Germany, and even pulled well among independent retailers and small chains.
The afterlife of a classic-rock band's or artist's catalogue is seemingly endless. Labels have been milking the core hits of sixties and seventies bands for years, releasing the same songs again and again in different permutations, whether on thematic compilations, exhaustive double-disc releases, boxed sets, or Walmart exclusives. The packaging may change, but the songs remain the same. (Ironically, in light of the previous quote, Led Zeppelin has been one of the lesser offenders in this game.) The chief back-catalogue recidivists by far are the Beach Boys, with their whopping 42 compilations: You could feasibly own 26 copies of "Surfer Girl" or 24 of "Good Vibrations." Trailing far behind — but by no means shrinking violets — are the Doors and Elton John, with fourteen career greatest-hits albums apiece.
So which songs have these classic rockers resold the most times? We picked the bands with some of the most oft-regurgitated discographies and went through their compilation track listings to find out which of their old favorites has been pimped out most frequently. Our principle was fairly simple: We only counted songs that appeared on major-label compilations dedicated solely to each band or artist, and only if the version is the same performance that appeared on its original album (possibly remastered). We didn't count live cuts, demos, alternate versions, or remastered versions of entire albums, and only official U.S. releases. Check out the list, and if you find you don't have all of the versions, you best get to iTunes. A true fan wouldn't be left with only eleven copies of "Light My Fire" on her iPod when there's a twelfth out there to get into the rotation.
THE BEACH BOYS
Total compilations: 42
Most frequent songs:
"Surfer Girl" (26)
"Good Vibrations" (24)
"I Get Around" (24)
"California Girls" (23)
"Fun, Fun, Fun" (23)
THE DOORS
Total compilations: 14
Most frequent songs:
"Riders on the Storm" (11)
"Roadhouse Blues" (11)
"Love Me Two Times" (11)
"Hello, I Love You" (11)
"Light My Fire" (11)
ELTON JOHN
Total compilations: 14
Most frequent songs:
"Your Song" (9)
"Crocodile Rock" (8)
"Daniel" (8)
"Don't Let the Sun Go Down on Me" (8)
"Rocket Man" (7)
"Goodbye Yellow Brick Road" (7)
"Philadelphia Freedom" (7)
"Someone Saved My Life Tonight" (7)
"Candle in the Wind" (7)
THE BEATLES
Total compilations: 12
Most frequent songs:
"Paperback Writer" (7)
"Get Back" (6)
"Hey Jude" (6)
"Love Me Do" (6)
"Day Tripper" (5)
"I Want to Hold Your Hand" (5)
"Lady Madonna" (5)
"Revolution" (5)
"Can't Buy Me Love" (5)
"The Long and Winding Road" (5)
THE ROLLING STONES
Total compilations: 12
Most frequent song:
"Brown Sugar" (7)
"Ruby Tuesday" (6)
"Wild Horses" (6)
"Have You Seen Your Mother, Baby, Standing in the Shadow?" (6)
"(I Can't Get No) Satisfaction" (5)
"Honky Tonk Women" (5)
"Jumpin' Jack Flash" (5)
"Let's Spend the Night Together" (5)
"She's a Rainbow" (5)
"The Last Time" (5)
THE WHO
Total compilations: 12
Most frequent songs:
"Pinball Wizard" (12)
"I Can See for Miles" (11)
"Squeeze Box" (11)
"My Generation" (10)
"Happy Jack" (10)
"Magic Bus" (10)
JIMI HENDRIX
Total compilations: 11
Most frequent songs:
"Purple Haze" (9)
"Fire" (8)
"All Along the Watchtower" (8)
"Crosstown Traffic" (8)
"Foxy Lady" (7)
"The Wind Cries Mary" (7)
THE KINKS
Total compilations: 10
Most frequent songs:
"You Really Got Me" (8)
"Everybody's Gonna Be Happy" (8)
"Tired of Waiting for You" (7)
"Set Me Free" (7)
"A Well Respected Man" (7)
"Sunny Afternoon" (7)
BILLY JOEL
Total compilations: 8
Most frequent songs:
"An Innocent Man" (6)
"Just the Way You Are" (6)
"She's Always a Woman" (6)
"Movin' Out (Anthony's Song)" (5)
"My Life" (5)
"Piano Man" (5)
"You May Be Right" (5)
"Honesty" (5)
PINK FLOYD
Total compilations: 5
Most frequent songs:
"See Emily Play" (4)
"Shine On You Crazy Diamond" (3)
"Wish You Were Here" (3)
"Another Brick in the Wall (pt. II)" (3)