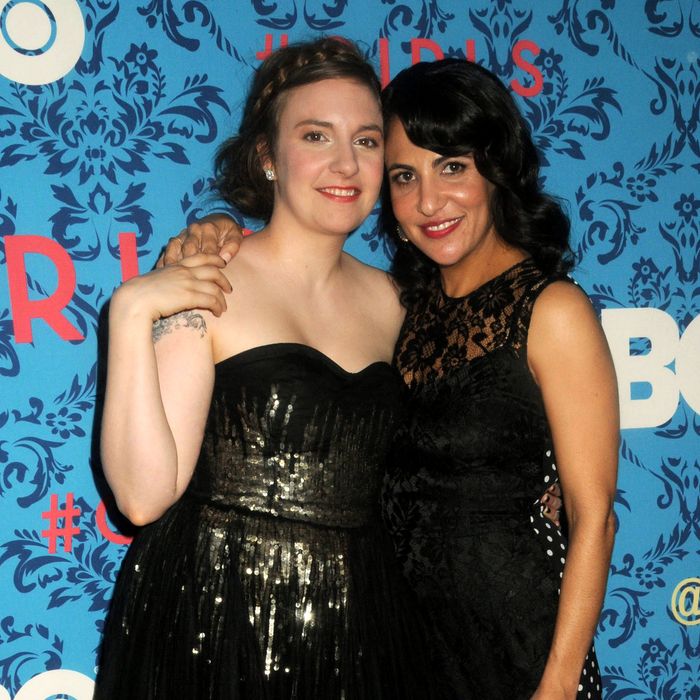 Photo: Johns PKI/Splash News
The morning after Girls won Golden Globes for Outstanding Comedy Series and Lead Actress, showrunner Jenni Konner tried not to yawn too much as she sat in a daze at West Hollywood's Le Pain Quotidien, her hair tossed back in a messy ponytail. "I still am really shocked," she said. "You know, there's only been five hours of our show released to the world." She doesn't recall exactly what time she stopped celebrating. "Not too late," she says and then texts her boyfriend, Girls director Richard Shepard, to see if he knows. Konner does remember a few things: weeping through Jodie Foster's speech, seeing Glenn Close profess her love for Girls to series creator and star Lena Dunham in the ladies room, and, best of all, getting the thumbs-up from Daniel Day-Lewis. "We were taking pictures of ourselves in the InStyle booth, and he goes, 'Good job, girls.' We screamed so loudly that Judd thought someone's boob had popped out." Would that actually have been an anomaly among the Girls crew? Konner laughs. "You're right. That would have been like any other day at work."
While Dunham (as creator, star, and frequent writer and director) is the public face of the show, Konner, a 41-year-old writer-producer and mother of two, is considered Dunham and the show's den mother. In her Golden Globes acceptance speech, Dunham called Konner "my best friend," and Dunham's assistant calls her "Lena's emotional bodyguard." "You know what my job is? I'm Mrs. Garrett from Facts of Life," Konner says. "Really." The only difference is she wraps gifts for her girls in breasts.
Konner lived through her own Girls years in New York during the dot-com boom. She grew up in Los Angeles, studied at Sarah Lawrence College*, and spent her postgrad as "the city's only living temp." ("Everyone else with a college degree was making millions on the Internet, and they all left," she explains.) She made just enough to live on, à la the characters on Girls, and the low-pressure gig gave her time to pursue writing. She and her childhood friend and former writing partner Ali Rushfield (now co-executive producer of Parks and Recreation) first landed a job writing for HBO's animated kids show George and Martha, based on the hippo-BFF books. That led to their agent arranging for them to meet with Judd Apatow, who was based at the same agency and looking to staff up his new college-set show Undeclared. Their first meeting was awkward. "I think I was kind of fanned out," she says. "But it went okay enough that he invited us back, and the second meeting was awesome and funny. Suddenly we were in a room with Seth Rogen and Nick Stoller and Rodney Rothman and all of these talented people who would stay our best friends forever."
After Undeclared was canceled, Konner and Rushfield got a taste of running their own network shows. They created and ran 2006's Help Me Help You, starring Ted Danson as a therapist, and 2009's In the Motherhood, an adaptation of a web series that featured Megan Mullally, Cheryl Hines, and Jessica St. Clair as slightly coarser versions of your average TV sitcom moms. Like Apatow's shows, neither lasted longer than a season. (In 2008, they also sold the pilot Bad Mother's Handbook, starring Alicia Silverstone and Alia Shawkat, but ABC did not order it to series.) After that, Konner and Rushfield split up and Konner began working as a script doctor, and her specialty became fleshing out female characters. She got called in to take a look at the women in Dinner for Schmucks, Red, and Transformers: Dark of the Moon. That last job boiled down to spending time with Megan Fox's replacement, Rosie Huntington-Whiteley, a Victoria's Secret model with no acting experience, and trying to think of jokes for her. "I was working with [screenwriter] Ehren Kruger and Michael Bay, and they would explain what certain moments needed. Like, 'Here's her scene with the kitchen robots. Punch that up,'" Konner said. She didn't have a vocabulary when it came to the genre. "Luckily, they didn't need me for any of the robot parts; they needed me for the feelings parts," she says. Not too long after that, she saw Dunham's very personal, micro-budget indie Tiny Furniture.
What happened next has been well documented: Konner flipped for the movie, which was given to her by HBO's head of entertainment Sue Naegle, whose kids go to school with Konner's children. "Here's a character who is super-complicated, who comes home from college and is an asshole to her parents. That excited me," she says. Konner had serendipitous ties to the film as well. It was shot in the Tribeca apartment building where Konner's father, screenwriter Lawrence Konner (The Sopranos), also lives, and both Konner and Naegle own the same print of a picture taken by Dunham's mom, photographer Laurie Simmons, who also appears in the film. When Dunham got a script deal at HBO, their agents put them together. "We fell in love," Konner laughs. But she didn't immediately accept the job.
"This is the relationship I have with her instantly, which is that I only want the best things for her," Konner says between sips of coffee. "Of course I wanted the job, but as a person older than her, who has gone through stuff like this, I was like, 'You have to talk to other people.'" Dunham's agent came back and told Konner that she didn't want to meet anyone else. A week later, she was staying in Konner's L.A. home, and Apatow offered up his services immediately after. "I've never felt cooler than getting that phone call," Konner says, grinning. "'He went, 'Jenni Konner, rockin' and rollin,' like I'd beaten him to something." After this breakfast, she's heading to Apatow's place. They are already breaking stories for season three.
Being Mrs. Garrett means making sure Dunham, who both stars in and executive-produces Girls, doesn't get overwhelmed by the workload or distracted by well-meaning fans. "People send her their scripts at least three times a week, and I have to tell her it's okay to say no. We're in production. She would do anything anyone asked of her because she is so grateful to be where she is and can't believe it," Konner says. And she also takes on the responsibility of trying to prevent Dunham from making the kind of painful life choices that often pop up in the show. "She was in a relationship last year that I was horrified by," says Konner. "It became this big joke. She would tell me, 'Isn't that sweet? He said my ass was so big, and I was dumb.' That's a little on the nose, but the things he would say were not sweet. At all. And I was just like, 'Stop it, stop it.'" (Dunham is currently dating fun. guitarist Jack Antonoff.) Inevitably, that sort of thing works its way into the show because of Dunham's "insane ability to quickly metabolize" a horrible experience, turn around, and figure out what's funny about it. "It takes me twenty years," Konner says. One by-product of their commitment to the truth is lots of quality time with HBO's lawyers, who are hard at work preventing them from getting sued by some of the real-life people on which their characters are based. "They're always saying to us, 'You know, you can change names.' When we're writing drafts, sometimes we'll just write the real ones."
Konner credits her long working relationship with Apatow — she's participated in script roundtable sessions for his films, including his latest, This Is 40 — with how she gets Girls to its utterly personal core. "'What is the real version of this? What's the hardest version? What's the most painful version?' Then you get to the funny stuff. I learned that from him," Konner says. It was his idea to have Hannah's parents cut her off in the pilot. "A simple idea, but it informed our whole show. It helped the pilot, too. It gave it a real fear and drive and anxiety."
Girls' second season is about Hannah getting some of what she's been pining for — a bit of success with writing, Adam finally in love with her — and seeing how she handles it. The new episodes also address the show's perceived lack of  diversity; Konner says they had already been in talks with Community's Donald Glover to do an arc before the backlash hit. He plays Hannah's new boyfriend, Sandy. In Sunday's episode, the two will deal directly with the topic of race. "It was our way of engaging people about it, but I hate to say we were responding to it," Konner says. She's been able to avoid most of the negative online chatter that greeted the show when it premiered last year. Except for the stuff her mom forwards her. "Her e-mails would be like: This is despicable. Don't believe a word of it. And then she'd include a link." But as she readies for a third season, Konner invites the dialogue. "To be a little divisive is kind of hot. No one wanted to talk about anything I did before."
* This post has been corrected to show that it is Sarah Lawrence College, not University. Apologies to slighted alumni.