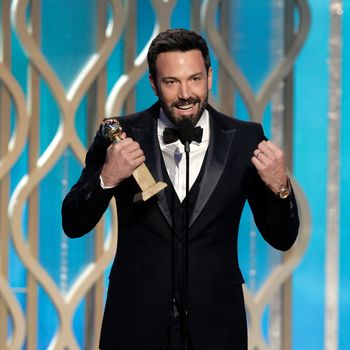 Photo: Paul Drinkwater/NBCUniversal via Getty Images
The Golden Globes certainly gave us plenty of buzz-worthy moments last night. There was Jodie Foster's hotly debated, absolutely riveting coming-out speech! Steven Spielberg wrangling Bill Clinton to introduce his film Lincoln! Tina Fey and Amy Poehler shutting it down in perpetuity as perfect hosts! And … wait, are we forgetting something? Oh, yeah! Some people won awards, too, maybe … we think.
We kid, but only a little. For last night's winners, those trophies were certainly meaningful, even if they do come from a super-shady organization run by a lady who is utterly confused about the way to Bradley Cooper's heart. But as a harbinger of things to come, the Globes felt more disconnected from the Oscars than ever. Sure, Daniel Day-Lewis and Anne Hathaway won in their categories and will almost surely repeat those feats at the Academy Awards, but we got no real clarity in the other races, and it was tough to shake that "dead man walking" feeling whenever the camera would cut to people like Kathryn Bigelow and Ben Affleck, who were famously snubbed by Academy voters in the Best Director category last week and found the Oscar momentum of their films chilled as a result.
It's evidence that the Academy's baby steps to blunt the efficacy of all those precursor awards shows has finally worked. For Globes voters, the main priority in trophy-giving is to predict what the Academy might do — the more the two organizations line up, the more seriously people will take the Golden Globes as an Oscar precursor — but here's a year where the Academy feinted right in the direction of Argo and Zero Dark Thirty, then, after the Globes fell for it, bobbed left toward Beasts of the Southern Wild and Amour. The fact that the Globes snubbed the former entirely and left Amour's Emmanuelle Riva out of the Best Actress race is all the more glaring after the Academy cleverly moved the announcement of the nominations to several days before the Globes ceremony. "What's that, Globes? You mean Quvenzhané Wallis isn't even nominated in your little awards show? And you thought we'd be falling for Bigelow, Affleck, and Quentin Tarantino for Best Director? Hmmm. How quaint."
For once, then, we head into next month's Oscarcast with a feeling of excitement in the air: The biggest awards-season precursors have been wiped away, and still, it feels like no one knows anything.
Unless … well, unless Argo still goes on to win Best Picture, detained temporarily at the airport by hostile Academy voters but still able to sneak through and engineer an improbable takeoff. It's something that technically could happen, and it would certainly help the Globes save some face as an accurate Oscar crystal ball, albeit after the fact. Sure, it's been 23 years since a movie won Best Picture at the Oscars without a corresponding Best Director nomination (and when Driving Miss Daisy pulled that off, 67 years had passed since Grand Hotel did it), but hey, at least there's a precedent. And you'd better believe that after this Globes win and last week's Critics Choice victory, the Argo team is reminding voters of just that. In a year when anything could happen at an awards show, wouldn't a shocker Argo victory feel apropos? Stay tuned.