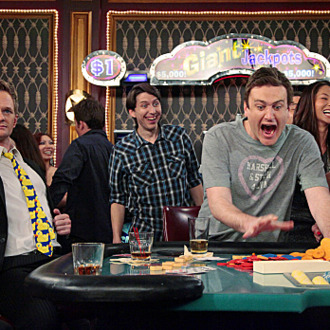 "Good Crazy" – Barney (Neil Patrick Harris) takes Marshall (Jason Segel) on a roadtrip to unwind before his baby is born, on HOW I MET YOUR MOTHER, Monday, April 30 (8:00-8:30 PM, ET/PT) on the CBS Television Network.
Photo: Richard Cartwright/CBS
How I Met Your Mother co-creator and exec producer Carter Bays warned us about a new Robin Sparkles episode — "a big huge giant monster" with "the most astonishing lineup of guest cast we've ever assembled for one show." And now, here they are: Alex Trebek, Alan Thicke, James Van Der Beek, Paul Shaffer, Jason Priestley, K. D. Lang, Rush frontman Geddy Lee, former Canadian hockey player Luc Robitaille, and former Barenaked Ladies frontman Steven Page. The episode airs Feb. 4.