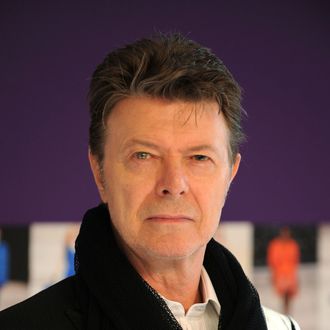 Sneaky bugger.
Photo: Andrew H. Walker/Getty Images
The world was given a great surprise last week when, after a decade of playing coy, David Bowie announced the release of a brand-new album called The Next Day, his first in ten years. Bowie's sudden comeback is made even more interesting when you wonder how, exactly, he kept the two-year-long project so tightly under wraps. Unsurprisingly, it wasn't easy. The Guardian reports that Bowie had to forgo all the grand entourage and infrastructure of, well, David Bowie. He had a New York staff of just one (as opposed to the 45 employees he had in the seventies.) When recording, the studio sent everyone home except a skeleton staff of two. And the recording label didn't insist on having a suit around — a deal "not normal for any star," pointed out Bowie's producer, Tony Visconti. In fact, Sony Music's president only heard of the album's existence a month ago, when he was invited to the studio to listen to several tracks.
The only people who were in on the album were Bowie (who apparently found all the spy-level secrecy hilarious), Visconti, a longtime personal assistant, guitarists Earl Slick and Jerry Leonard, and drummer Sterling Campbell.
But now that the word is out, we can all get thoroughly obsessed with what's to come. According to Visconti, Next Day makes use of medieval English history and a whole lot of other hardcore nonsense:
The album is eclectic, it's got five really blistering rock tracks. The rest is really mid-tempo, mysterious and evocative. He's been obsessed with medieval English history, which, believe it or not, makes great material for a rock song. And contemporary Russian history, which makes a great rock song. The subject matter he chose to write about is amazing. "The Next Day" is a song about a tyrant, let me leave it at that. One thing the album's got is a lot of substance. You're going to have to listen to it many times, because the lyrical content's going to take a long time to absorb.
And that's just the 17 tracks that made it onto the album. Bowie and Co. reportedly recorded 29, and many aren't done yet. "I know he wants to keep recording," Visconti told The Guardian. "I'm not sure when, but I think he'll be back in the studio later this year." We hope he's right.