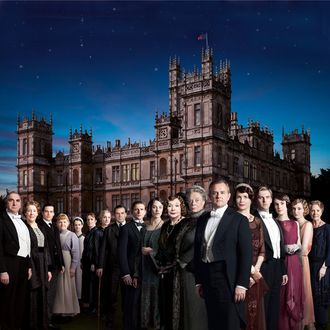 Spoiler alert: If you have not watched the fifth episode of this season's Downton Abbey, stop reading now. In America, it's been easy for impatient fans to learn about every upcoming twist and turn in this season of the popular costume drama, thanks to the many people who illegally downloaded it after it aired in the U.K.
But when the season first aired in England, the Brits had no such method for ruining surprises, and so the producers were able to keep the death of Lady Sybil a secret. As Downton executive producer Gareth Neame told Vulture, "It was a nation gobsmacked."
Fans in the U.S. learned Sybil's fate in Sunday's heart-wrenching hour, which saw the youngest Grantham daughter die after giving birth to a baby girl. When shooting, the production regularly takes precautions to keep story lines from leaking — scripts are routinely covered in code names (as opposed to a Downton Abbey title page), and producers occasionally ramp up security on location shoots — but even Neame said he was amazed the death went undetected in the U.K. British critics weren't sent the episode in advance (unlike in the U.S., when the media was sent the entire season all at once), and somehow, word of Jessica Brown Findlay's exit from the show had not leaked. The cast and crew even threw a covert good-bye party for the actress at a local pub after she filmed her final scene. "The girls who set it up were very clever," said Hugh Bonneville, who plays Lord Grantham. "They put 'Happy birthday' signs everywhere so prying eyes wouldn't suss out what was going on."
The show also got an unexpected assist in keeping Sybil's sudden demise a surprise — and from an unlikely source. The Sunday Mirror had gotten wind that Sybil's baby was about to arrive during filming, and they went all out to break the news. "They're one of the big tabloid papers in England, and [they] printed an insert on sepia paper with the headline 'Downton Times: Baby Joy for Sybil,'" Neame laughed. "It had pages and pages. They'd made a whole section of it, and they didn't know what happened after the birth." Neame said he even got calls from his friends in the press, commending him for keeping the episode spoiler-free. "We were so pleased we did manage to keep that story line under wraps," said Joanne Froggatt, who plays the housemaid Anna. "It's a shame when things like that get out. In the end, we were a people in mourning." It makes us wonder: Will anyone weep for Dan Stevens?