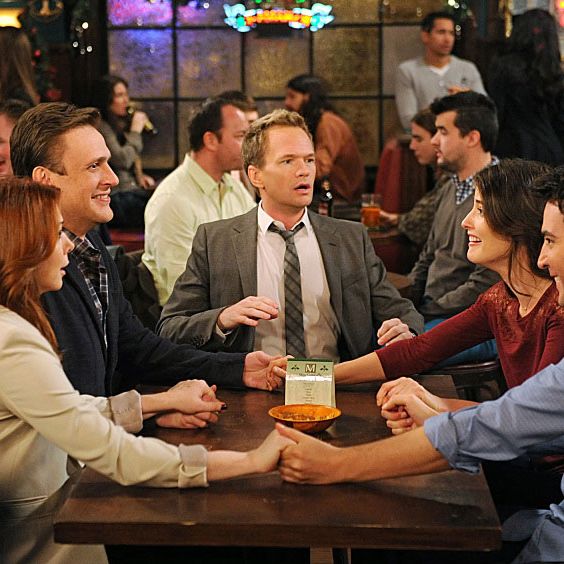 With each passing episode of How I Met Your Mother, next year's ninth season seems like a more troubling idea. What comes after running on fumes? Last night's episode had a few cute moments — like Marshall and Lily getting hot for each other's terrible outfits — but the borderline-creeper romance with Barney's half-sister felt hollow and needlessly cruel. (Also, hipster jokes.) More distressing, the episode recycled its premise from season-one episode "Sweet Taste of Liberty." In that episode, it's Lily who discovers that once-doting men treat her differently now that she wears her engagement ring; seeing Robin have the same "revelation," without any kind of acknowledgement that the show had already covered that idea, was sort of a letdown. We're not against HIMYM going back through its archives, though. In fact, we kind of hope it does. There are lots of stray plot points, one-off characters, or weird theories we'd love to see again. Like these:
1. Slaps
The slap bet is by far HIMYM's best creation, and Marshall still has two slaps left. It looks like at least one will be used in May, perhaps at Robin and Barney's wedding, but the other might still be up for grabs.
2. Another Pretty Little Liar
Barney's half-sister? Ashley Benson, who plays Hanna on PLL. Robin's sister? Lucy Hale, who plays Aria. Three makes a trend! Spencer could be Marshall and Lily's nanny, or Emily could be Ted's intern, or Mr. Fitz could be Robin's hunky co-worker. Crossovers!
3. The Goat
Ah, the goat that attended Ted's 30th-birthday party. How long ago that seems. We're rooting for both a literal reappearance of the goat and for the reappearance of anything similarly playful and odd, HIMYM's former calling card.
4. Past Barney
We haven't seen long-haired, Peace Corps–loving Barney in ages and ages. Presumably present-day Barney will have to reflect on his past before he and Robin get married, which presents a perfect opportunity to dig out the ponytail wig.
5. A Marshall Nonsense Song
In season three's "Spoiler Alert," Marshall's habit of singing to himself is presented as annoying. But it's not annoying! It's silly and cute. (On the show; in life, it would be like walking through ten hells.)