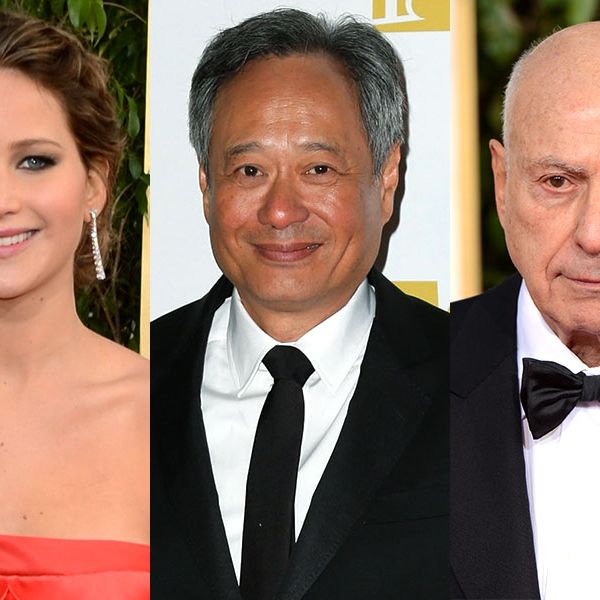 How would you react if you were nominated for an Oscar? Would you scream? Thank the Academy? Thank the cast and crew? Thank your dad for paying for film school? Would you be humbled or deferential? Or maybe you'd just sleep through the nominations and find out later from your publicist or child? We sorted through the nominees' responses and found the eight most common sort of reactions. (Quotes without links are from statements sent out to the general press.) See if any of the nominees' reactions affect whether you pick them in Vulture's new Oscar ballot.
1. Humbled/Excited/Surreal
Hugh Jackman, Les Miserables: "To be honest, it's very exciting but all a bit surreal, and it hasn't fully sunk in yet. This is a brilliant awards year that has been defined by an eclectic list of stories that have been told by incredibly talented and courageous filmmakers, and it's an honor to be mentioned in the same sentence as the other nominees in the Best Actor category. Having hosted the show, I have seen so many different sides of the Oscars, but to be an actual nominee is something I never would have dreamed possible."
Emmanuelle Riva, Amour: "I am truly happy, touched, and honored to receive, today in New York, a nomination for the role of Anne in Amour. It is an immense gift, at this stage of my life, to be chosen by my sisters and brothers, for what I do as an actress. I never thought, while working throughout the years in Europe and France, that one day, I would cross the Atlantic Ocean, come to the United States, and be nominated. It is quite surreal for me. " 
Naomi Watts, The Impossible: "I am so thrilled and humbled with this morning's wonderful news. The journey of telling Maria Belon's miraculous story of survival has been an incredible experience, and I am so grateful for this acknowledgement of our film. I am truly honored." 
Christoph Waltz, Django Unchained: "It really is fantastic — it's completely unreal … You know [it's like] that enjoyable unrealness that you feel when you had a really good dream and you just wake up and you don't exactly know on what level of reality you're dancing."
Sally Field, Lincoln: "We were all holding our breath, and yay! I can breathe. I'm thrilled. I'm just really honestly twirling. Honestly, I still can't believe I got the job. I honestly will never have an experience like [Lincoln] again, and I don't want to let it go. I don't want to have it be in my past and no longer in my present. It has just been an amazing experience all down the line, from the very first second I read the screenplay."
Lucy Alibar, Beasts of the Southern Wild: "I am humbled and honored … It is thrilling that the academy has recognized the film in so many categories and our journey together continues.This is a wonderful day and I am beyond grateful.  Thank you so much."     
Tony Kushner, Lincoln: "I'm overwhelmed by the Academy's response to the film.  I heard that I'd been nominated while waiting to take off on a plane from JFK to LAX. James Gandolfini, who's sitting in front of me, gave me a hug and a kiss, so I'm about as happy as can be. "    
Malik Bendejelloul, Searching for Sugar Man: "It is a true and surrealistic honor to realize Searching for Sugar Man has been nominated for an Oscar. Being from Sweden, the Oscars were like a far-fetched fantasy you heard about growing up as a kid – something only one could dream of. The story of Rodriguez is unlike any I have ever known and I am beyond grateful for the opportunity to share his incredible journey with audiences worldwide. Thank you to the Academy, to Sony Pictures Classics, and to all those whose efforts and passions made this possible."
Adele, Skyfall: "Oh my god I feel like Meryl Streep!! Thank you x"
John Gatins, Flight: "My wife reminded me that I have been talking about this film most of my life which makes it that much crazier that I am nominated today."
2. Complimentary of Co-Workers
Anne Hathaway, Les Miserables: "I worked with a fearless cast and was so inspired by them every day. I sent Hugh [Jackman] an email. It's also a bittersweet morning for all of us because [Tom Hooper]'s our captain, and there's no way I'm on the phone with you right now without his influence in my life. He's really happy for us, which is a great feeling." 
Robert De Niro, Silver Linings Playbook: "I am very pleased that the Academy has chosen to honor the many individuals who were a part of Silver Linings Playbook."
Bradley Cooper, Silver Linings Playbook: "Anthony Hopkins once told me you are never the first choice, so I just take everything as it comes and if someone wants me to go into the trenches and fight with them, and that person is David O. Russell, then I'm more than happy to do that … I have been grateful to work with so many ensembles and this one is up there with one of the best. What made this unique was the tone of the film and how it was at that sports-car level in how it jumped from a drama to comedy so quickly." 
Denzel Washington, Flight: "Flight was one of the most challenging roles I've ever had in my career, and it was an honor to be directed by Robert Zemeckis. It's always nice to be asked back to the show, and it will be fun to share the evening with our nominated screenwriter, John Gatins." 
Jennifer Lawrence, Silver Linings Playbook: "Having the fortunate opportunity to work with David O. Russell was an extraordinary gift and I am so thrilled for my fellow cast members Bradley Cooper, Robert De Niro and Jacki Weaver who are all nothing short of amazing. This was a labor of love that we all poured our hearts into and could not be more thankful to the Weinstein Company and Harvey Weinstein for their unyielding support of the film. 
Emmanuelle Riva, Amour: "Shooting Amour with Michael Haneke was a complete joy for me, as I felt an absolute trust in him and we were in complete synch. Michael is the very music of his own film." 
Quvenzhané Wallis, Beasts of the Southern Wild: "Everyone who made Beasts happen is so happy!.. I am so happy for Benh and Lucy and the gang in Louisiana. Meeting all these great new people is one of the best parts for me. I want to thank my family, friends, fans and everyone so much. Beast it!"
Alan Arkin, Argo: "Argo is a brilliant film in every way; brilliantly directed. It's really the work of an old master, rather than a young director.
David Magee, Life of Pi: "Everyone on the creative team for Pi contributed to making this screenplay possible. I owe the greatest debt to Ang Lee, not just for inviting me along on this journey, but for the creative insight that he provided into every scene and line of dialogue I wrote, and for his gentle insistence that I never settle for 'good enough.' In the best of collaborations, it's easy to lose track of who made which suggestion for a better line or how a scene evolved as the result of a design element, a brilliant reading, or a moving score. They all deserve credit. I couldn't be happier that so many on our team were recognized with nominations for their work as well, and that Life Of Pi is listed among the nominees for Best Picture."
Tony Kushner, Lincoln: "I'm very grateful to Steven and Kathy, to Daniel, Sally, Tommy Lee and the whole cast, to Rick, Joanna, Janusz, Mike and John and everyone who made Lincoln happen."
Tim Burton, Frankenweenie: "I've worked with so many incredible artists: animators, cast members, set builders, and puppet makers, all who have helped bring this film to life one frame at a time. I'm so honored that the Academy has recognized this film as one of its nominees." 
Mark Boal, Zero Dark Thirty: " None of us would be so honored today without the genius and remarkable talent of Kathryn Bigelow, and to her we are forever grateful."
Benh Zeitlin, Beasts of the Southern Wild: "So proud Quvenzhane [Wallis] and Lucy and of my whole ragtag band of warriors." 
David O. Russell, Silver Linings Playbook: "For me really, it was when Robert De Niro's name was called, and then Jacki Weaver's. I'm beyond proud and happy for my actors. That's the first thing, as a director. And then for me, you hear all kinds of things, you try not to pay attention to it. I called a lot of people last night and said 'Listen, I'm so happy we got to make this film and it's come out as it has.'"  
Ang Lee, Life of Pi: "I am deeply honored and frankly a little overwhelmed by all of the nominations that Life of Pi has received this morning. So many talented people gave everything they had to this film, both in front of and behind the camera, and to see all of them receive this kind of recognition is something I am incredibly grateful for."
Jacki Weaver, Silver Linings Playbook: "To be a part of this wonderful film and amazing cast makes things even sweeter. I am so happy for David O. Russell and could not be more thrilled."    
Helen Hunt, The Sessions: "It's too bad that John [Hawkes] wasn't recognized, but that doesn't take away from the brilliance of his performance one bit." 
3. Unexpected/Thought They Didn't Get Nominated
Alan Arkin, Argo: "I got about six emails this morning that said stuff like, 'Yippee!' and 'Hurray!' I didn't know what they were talking about."
Malik Bendejelloul, Searching for Sugar Man: "I thought people would call to give me a heads up if I was nominated," Bendjelloul said. "5:30 a.m. came and went and no one called … I looked (at the list) and there I was as one of the nominees.   
Jacki Weaver, Silver Linings Playbook: "This happening to me was the last thing I expected. Honestly. It's such a great lineup this year. I didn't think I had a chance, and I'm so thrilled. I was watching it on television. I couldn't sleep. I think it might have been because it was a long plane trip, so I turned the TV on and there I was. I did shout out something quite unprintable. Just an expletive."
Naomi Watts, The Impossible: "I kept thinking, 'It's not going to happen.' BAFTA didn't give us love this week, and I thought they were making the Oscar announcements at 5 a.m. so at ten after, I thought, 'They would have called by now right?' But my publicist texted and said, 'They haven't made the announcements yet!'" 
Amy Adams, The Master: "I'm excited. It's a little crazy and wonderful. I did not expect it in any way, shape or form. It's one of those nice surprises." 
Hugh Jackman, Les Miserables: "I hadn't planned to listen live to the announcements, but when I got into the car this morning to go to work, the driver had the nominations streaming as they were being broadcast.
4. Brought Their Kids Into It

Helen Hunt, The Sessions: "I'm feeling excited. I just dropped my daughter off at school. It's pretty much business as usual. My daughter, who doesn't really know what it even is, just decided to say that I was 'mominated.' So that's the refrain around my house. 'Momma was mominated!'"
John Gatins, Flight: "I was driving my son to school today, who wasn't even born when I first started writing this, and he was already asking me if he had a ticket to go to the Oscars." 
5. Complimented Competition
Lucy Alibar, Beasts of the Southern Wild: "I am humbled and honored to be  mentioned alongside such great writers as Tony Kushner, David Magee, David O. Russell, and Chris Terrio." 
David Magee, Life of Pi: "2012 has, to my mind, one of the strongest years for films in recent memory and I couldn't be happier to be part of this incredible list of writers and screenplays. 
Tony Kushner, Lincoln: "I'm tremendously honored to be a nominee in the company of so many writers and filmmakers whose work I admire." 
Roman Coppola, Moonrise Kingdom: "I was in the car with my family when we heard the news – everyone was so excited! It's a wonderful honor to be nominated among many great films and storytellers – Wes [Anderson] and I are thrilled."
Jennifer Lawrence, Silver Linings Playbook: "I'm so honored and grateful for this nomination and to be in the company of such talented actresses."
Steven Spielberg, Lincoln: "I'm deeply grateful, and we are so honored by our 12 nominations, especially being in the great company of such amazing films. It's a great list of nine movies and I've seen all of them. I'm looking forward to meeting Benh Zeitlin and Michael Haneke. Their films and the rest all show such a diversity; such a wide range of risky opportunities. And today their risks have been rewarded." 
6. Pro-Sleep/Jet Lagged
Helen Hunt, The Sessions: "I was deeply deeply asleep when the news came in this morning and the dog was the first one to get celebratory love from me and my boyfriend!"
Jessica Chastain, Zero Dark Thirty: She revealed on the Critics' Movie Choice Awards 2013 red carpet that she actually was sleeping on an airplane flying to Los Angeles, and didn't realize until after she woke up that the Academy Award nominees had been announced. Since she was surrounded by some friends on the plane, she expected that one of them would have told her if she had earned a Best Actress nomination. Since no one did, Chastain assumed she didn't get any Academy Awards love… until Zero Dark Thirty director Kathryn Bigelow mouthed "congratulations" to her and she realized she was up for the award.

Jennifer Lawrence, Silver Linings Playbook: "I thought I would wake up, but I didn't. My parents spent the night at my house, and they came in and kissed me on the forehead and told me about all the nominations for Silver Linings."  
Naomi Watts, The Impossible: "For the other announcements this season I was in NYC, no problem… I had a proper full night of sleep. There's something about this one, being in L.A., that creates a lot of angst! I had interruptions of sleep all night because of the kids, as if I wasn't restless enough."
Anne Hathaway, Les Miserables:  "It's a wonderful morning. I'm still jet-lagged on Europe time because I spent the holidays there, so I've been up for a few hours already unsuccessfully trying to fall back asleep."    
Jacki Weaver, Silver Linings Playbook: "I arrived here from Australia just yesterday and this was the last thing I expected. I turned on TV this morning – I couldn't sleep from being jet-lagged - and couldn't believe it and said something very unprintable to myself!"    
Denzel Washington, Flight: "I just returned home late last night from a family vacation, sick as a dog, when I got the call from my publicist early this morning telling me the good news about being nominated for Flight. I got up, went to the bathroom and threw up, and went back to sleep."
7. Thanked the Academy
Quvenzhané Wallis, Beasts of the Southern Wild: "Thank you to all you Oscar folks, from me, my mom and my dad."
Michael Haneke, Amour: "I am very happy and gratified by the Oscar nominations that 'Amour' has received today, and that the voting members of the Academy have taken the film so strongly to their hearts. It is fulfilling to discover that a film has found the audience and critical acclaim that Amour has garnered. I have been very fortunate on both those fronts, but it is especially rewarding to discover that a film has found favor among one's industry peers who know, in particular, the effort that goes into getting a film – any film – made.";  
Benh Zeitlin, Beasts of the Southern Wild: "I feel like my house just crashed on the yellow brick road and everything just turned color… I got to especially thank the members of the Academy for coming out for a movie made about as far from Hollywood as you can get. I think it's a beautiful thing for independent filmmaking and for creative freedom everywhere." 
Mark Boal, Zero Dark Thirty: "Thank you to the Academy for these incredible honors. And thank you to the writers who have honored me today with their generosity and to the academy for the Best Picture nomination."
David Magee, Life of Pi: "I'm honored that the Academy included me in this year's nominees for Best Adapted Screenplay for Life Of Pi.
Grant Heslov, Ben Affleck and George Clooney, Argo: "We would like to thank the Academy for acknowledging Argo in this extraordinary way." 
Mark Andrews, Brave: "We are incredibly honored by today's Academy Award nomination. Brave has been an adventure from the beginning – starting with our research trips to Scotland, the crew embarked upon a journey that inspired us all and forever changed our fates. Thanks to the Academy from all of us here at Pixar." 
8. Jokesters
Seth MacFarlane, Ted: "First an Oscar nomination, then I find a basically brand-new queen mattress on my drive home. This is an incredible day."  
Quentin Tarantino, Django Unchained: "It feels very lovely, it's nice to be invited to the party. It's been a good week. Five Oscar nominations today, five BAFTA nominations yesterday. I don't think it will win Best Picture. But if it did, I will take it for sure." 
Alan Arkin, Argo: "There's no way to be happier than putting on a tuxedo and going through a room full of people screaming."
Jennifer Lawrence, Silver Linings Playbook: "[The whole cast of Silver Linings Playbook have] been texting. I just sent them a picture of Obama on a unicorn with a rainbow saying 'Congratulations.'"