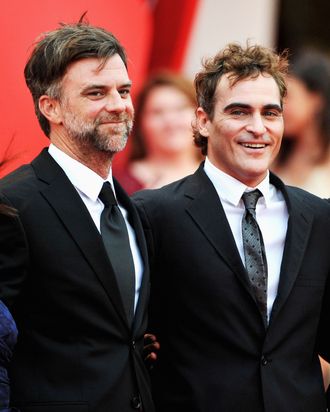 Director Paul Thomas Anderson (L) and Joaquin Phoenix attends "The Master" Premiere during The 69th Venice Film Festival at the Palazzo del Cinema on September 1, 2012 in Venice, Italy.
Photo: Gareth Cattermole/Getty Images
Apparently Paul Thomas Anderson just couldn't get enough of working with Joaquin Phoenix, as the actor is in talks to join Anderson's next film, the adaptation of Thomas Pynchon's Inherent Vice. This comes after Robert Downey Jr. passed on the role. Set in Los Angeles around 1970, Phoenix would play a pot-smoking detective investigating a kidnapping. No word yet if this detective also likes to sex sand sculptures.