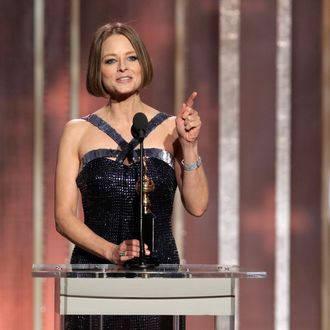 Photo: Paul Drinkwater/NBCUniversal via Getty Images
So let's talk about Jodie Foster's big speech. After Ellen called it an "amazing and laudatory act by one of the highest profile female public figures to come out to date." The AP called it "long, breathless and rambling" and "anything but predictable." The Hollywood Reporter called it "stirring." The L.A. Times called it "an extraordinary moment." Salon says it was "awkward and at times angry and brave and strange." The most repeated descriptor of the speech seems to be "raw," but even that doesn't feel quite right. The word we're all looking for is conflicted. That was an incredibly conflicted speech. And hey, what does Jodie Foster have against Honey Boo Boo?
Foster, just like everyone else, contains multitudes. But there's a deep irony in advocating for privacy, asking for it, demanding it, even, to an audience of millions of people. "Don't pay so much attention to me, everyone on Earth!" is a weird premise for a globally broadcast awards show. "I hope you guys weren't hoping this would be a big coming out speech tonight," she warned. And yet she gave what amounted to a big coming-out speech.
She has been in the public eye since she was 3 — and that's "reality show enough," Foster said. "I am not Honey Boo Boo Child." But what's so bad about Honey Boo Boo? Foster says that she had to "fight for a life that felt real and honest and normal," and having seen any Honey Boo Boo, it's pretty clear that everyone on the show is leading a life that feels real and honest to them. Don't cry too hard for Honey Boo Boo, Jodie. At least she's not besties with violent garbage-creature Mel Gibson.
"This feels like the end of one era and the beginning of something else. Scary and exciting, and now what? Well, I'm never going to be up on this stage again. On any stage, for that matter," Foster said, which sounds a lot like retirement. No, no, she said in the backstage press room afterward: "I could never stop acting. You'd have to drag me behind a team of horses." So she will be on some stage again?
And this is how Jodie Foster wanted it. She's no dumdum. She could have written a clearer speech or asked any number of people to write one for her. Oh, sure, she's always been out of the closet — except for no, she wasn't publicly out at all. Oh, she values privacy above all else — but sure, she'll come to the Golden Globes and get an award and make a speech. Oh, she's just someone who's been in front of the camera since she was a child — but jeez, it's not like she's some other little girl who's in front of a camera. What came through most powerfully here is that Jodie Foster is conflicted about being Jodie Foster. No wonder she feels so lonely.