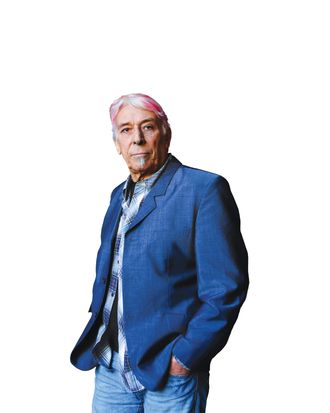 Photo: CHESTER HIGGINS JR/The New York Times
John Cale's title song, "Paris 1919," goes, "You're a ghost, la la, la," which is not an inappropriate chorus for a career waged stridently just below the radar of commercial acceptance.
"Call me a ghost, if you like, perhaps living, perhaps dead," Cale exhaled with bardish weariness in a small dressing room at the Brooklyn Academy of Music, as if the sub-rosa nature of his celebrity was, if not completely according to plan, at least a fine outcome for a man so resolutely outside the swim of what the world's lemmings wanted. For the past half-century or so, Cale, who is now 70 but still fancies pink streaks in his grayed mane, has been everywhere and nowhere. Born in a ­hollow-cheeked Welsh mining town, Cale managed to emerge as a viola-playing prodigy in his early teens, arrive in New York partially at the behest of Aaron Copland, explore the droning outer edge of the avant-garde with La Monte Young and John Cage, participate in the cataclysmic founding of the Velvet Underground with his eternal rival/alter ego Lou Reed, produce three of the most influential debut albums in the history of rock (by the Stooges, Patti Smith, and the Modern Lovers), as well as decapitate a (dead) chicken onstage—and do all this without ever becoming famous.
In town to present a series of shows—­including a twenty-piece-orchestra rendition of the Paris 1919 album, his 1973 pop record, and a separate evening of songs associated with Nico, the Velvets' iconic, ill-fated chanteuse and occasional front woman—Cale had been looking forward to the gig for some time, he said, perusing a bloated issue of fried shrimp from the neighborhood Chinese takeout. Now living in Los Angeles, he often longed for New York. "This is where so much happened in my life," Cale remarked in his stately tenor, adding that even if the world of Lenny Bruce and Jack Smith's Flaming Creatures had vanished from plain sight, he still loved the place, especially when "the air is that crystalline-perfect 30 degrees in the morning."
Cale didn't seem bothered that, despite his remarkable résumé, most people know his work through his relatively short stint with the Velvets (Cale was out by 1968 following his legendary battles for control with Reed)—which didn't mean, however, that he had totally buried the hatchet with his former bandmate. Hearing of a rumor that Reed was interested in teaming up again to create a live show featuring material from the pair's Songs for Drella, the 1990 tribute to the memory of their former manager, Andy Warhol, Cale stiffened.
"These rumors are always out there," Cale said with muted dismay*. "Things like that do not happen just because you think it is a good idea. It takes a lot of work to get the songs ready for live performance. Most of those arrangements are out of date. They need to be redone. Lou doesn't have the patience for something like that. Never. Not for a minute." It was always the same shit, Cale went on. "The problem with the Velvets was always a conflict between doing revolutionary songs, like 'Venus in Furs,' and pretty songs," Cale said, not for the first time, making it clear who was on which side of the creative divide.
This momentary rufflement concluded, he reclined once more. Some things were harder to let go of than others. One learns this through life, said Cale, who has spoken often of his decades-long addiction to various drugs. "I used to think that I couldn't be creative without getting high. It was some fable I bought into. Then, when I finally stopped, the floodgates opened for me. It was like a light, suddenly turned on. All I could think of was: All those years … all those years … what a waste."
Cale's often desolate oeuvre has inspired any number of slit-your-wrists popsters over the years, yet he professed "a degree of happiness, an appreciation of how lucky I have been." He attributed much of this to the younger generation of fans who have championed his music. "I look out and see these kids," Cale said as he headed to the Brooklyn Academy stage to rehearse "You Forget to Answer," one of the Nico songs he planned to play the following night. Sitting behind his keyboard, Cale channeled the ravaged ice-ship soul that once so entranced Federico Fellini that he asked Nico to play herself in La Dolce Vita. " 'When I remember what to say / You will know me again / And you forget to answer," Cale sang, as sprightly as the occasion allowed. When Meshell Ndegeocello, who was sharing the Nico persona on the song, stopped the music to apologize for a mistake, Cale almost smiled. It was no big deal, he said. "We're just having fun here, within reason."
*This post has been edited since its initial publication.
*This article originally appeared in the January 28, 2013 issue of New York Magazine.