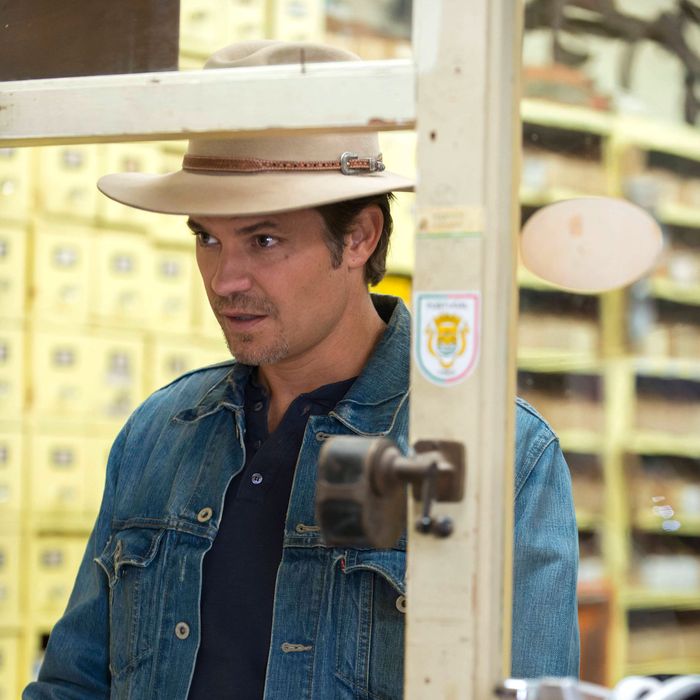 Where's Waldo? Who jumped out with that parachute 30 years ago? How come Raylan's hair is long and disheveled? Why'd Arlo shiv that guy? Justified boss Graham Yost isn't spilling! Sillies. (Wait, scratch that: Timothy Olyphant asked if he could grow the hair out a little. One mystery solved.) Yost did, however, share with Vulture some of the stuff that he's planned to shake things up in Harlan County for the show's fourth season. For starters, he's denying us Dickie and Dewey this year. Here's what he said you will and won't see:
WILL — Single. Raylan's with the bartender right now, sure, but there will also be "an inappropriate hookup" in the middle of the season. "We like seeing him with women," Yost said. "He's a very attractive character and an attractive man. Let's see him with different women." It's one of the reasons the writers needed Raylan single again and sent Winona packing. (For the record: Natalie Zea was cast on The Following only after the writers told her they'd be using her less, not the other way around.)
WON'T — A big bad. "We were afraid of becoming a show that does a bad guy a year," Yost said. So they came up with a central mystery revolving around the Givens family, kicking off with the guy who parachuted to his death (is he actually dead?) 30 years ago and Waldo Truth. Of course, there will be plenty of medium-size baddies along the way.
WILL — Daddy issues. The writers wanted to get rid of Arlo at the end of last season. "We thought we were kind of done with him because he had shot an officer in a hat to protect Boyd, and he didn't care if it was his son or not. It's sort of the ultimate act of betrayal," Yost said. But the season's big question marks put Raylan back in business with his old man. "We're really going to dig deep into their relationship and what effects it has on Raylan as he is now headed toward becoming a father," Yost said. Meanwhile, Raylan's taken up bounty hunting, and his illicit activities don't stop there. He's nervous with a child on the way, and "he needs money and probably not to be living above a bar. So he's going to be doing some things that he shouldn't be doing to help make that happen," Yost said.
WON'T — Dickie and Dewey. There is a slim chance the writers could change their mind, but for now, there's no immediate plan to re-visit Dickie, who is in jail. "We want to come up with a real story. We owe it to Jeremy Davies and to the fans to really do something with it rather than just have him appear," Yost said. And even though it was too good having Dewey pretend to be Raylan in season two and then giving him missing kidneys (but not really) last year, the writers don't want viewers anticipating standalone Dewey episodes. At least not until next season, unless… "Fred Golan had an idea," Yost said. "'What if we have two characters driving down the road and Dewey just runs out of the trees, almost gets hit, looks at everyone, and then just keeps running. We just establish he's out of prison. [laughs] We're not going to do that. Unless we decide we will." There will, whoever, be a blast from the past when Brent Sexton, who played rotten Sheriff Mosley in season one and then went off to stand in the rain on The Killing, returns. "He's still in jail, and that's all I'll say," Yost said.
WILL – Q.T. with the Marshalls. Tim's regular gig is giving Raylan grief, but after he crosses paths with Boyd's old army buddy Colt (Ron Eldard) in episode five, he'll be spun off into his own solo arc that Yost said starts personal and winds up affecting his work. There's more for Rachel, too, who will be having marriage problems she and Raylan will get into in episodes three and four.
WON'T — Quarles. We bring this up only to reveal that Quarles (Neal McDonough) didn't bleed out at the end of last season. "We don't believe he's dead," Yost said. "In Justified, unless you actually hear someone say that the character is dead, they're not dead."  But he won't show up this season unless Justified morphs into The Fugitive. "Our joke is that someone kills someone dear to Raylan and he is blamed, but we know it's the one-armed man. So he'll go hunting for Quarles," Yost said.
WILL — Winona. She's only sort of gone. The show reserved the right to pull Zea back for three to four episodes, and Yost maintains she's "an important part" of Raylan's story this year. She first turns up in episode five. "Ultimately, she's his soul mate," he said. "We'll see how the series ends."
WON'T – Raylan and Boyd. Because Boyd's busy trying to stop the new preacher-slash-snake-handler Billy (Joe Mazzello) and his sister Cassie (Lindsay Pulsipher) from interfering in his drug business, and because Raylan's off chasing Waldo, the two won't meet up until episode five. And then they'll continue to be at odds as they attempt to hunt down the same thing.