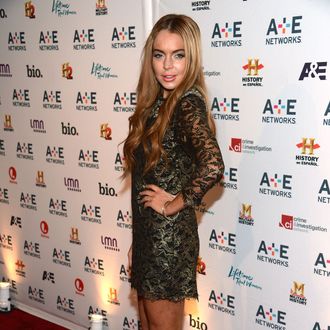 Photo: Dimitrios Kambouris/Getty Images
Did you know that Lindsay Lohan is difficult to work with and be around and that she's often drunk and is a smoker? Of course you did. But now The New York Times Magazine has reminded us of these things in a glorious article that chronicles the making of The Canyons, the Paul Schrader movie written by Bret Easton Ellis and co-starring Lohan and porn star James Deen. Lohan was constantly late, sometimes not showing up at all, and about as erratic and demanding as you'd expect. Plus a few things we maybe didn't expect:
Lindsay really relates to the part in Liz & Dick where she shouted, "I'm so bored!"
"I needed time to figure out all the crap in my life that I'd created for myself, essentially, and I kind of realized, What am I doing? I like doing this. I like being here. This makes me happy. There was a line in the 'Elizabeth' [Taylor] movie where she says, 'I'm so bored, I've never been taught what to do when I'm not working,' and I'm kind of figuring that out now."
She cries to "Wonderwall" and had a horrendous childhood.
Deen came to life; throwing the negligée-wearing Lohan hard to the ground and pounding his fist into a wall with such fury I wondered if he had broken his hand. Lohan lay slumped on the floor, her hands guarding her face, shoulders shaking, tears pouring down her cheeks. Between takes, she listened to Ryan Adams's cover of "Wonderwall." After three shots, Schrader said he was satisfied, and Lohan fumbled for a cigarette. She headed downstairs, and someone complimented her work.

"Well, I've got a lot of experience with that from my dad."

She didn't elaborate, and no one asked.
She's holding a grudge against Oliver Stone.
Schrader was already scouting the location by the time Lohan arrived at the suite with her entourage. She smiled and waved to everyone and then noticed a magazine with Oliver Stone on the cover. She picked it up and ripped it into pieces, cursing. (Lohan had been considered for a role in Stone's "Savages," but the director eventually passed.) She then went into the bedroom, calling out, "Does anyone want a beer?" Then she popped back out.
Steven Soderbergh offered to edit The Canyons but was rebuffed.
Meanwhile, Ellis, Pope and Schrader battled over the film's final cut. Pope screened a rough cut of The Canyons for Steven Soderbergh. Intrigued, Soderbergh offered to do an edit of the movie if he was given the footage for 72 hours.

Schrader said no. […] "The idea of 72 hours is a joke," Schrader said. "It would take him 72 hours to look at all the footage. And you know what Soderbergh would do if another director offered to cut his film?"

I said I didn't. Schrader leaned back in his chair and gave me two middle fingers.

"That's what Soderbergh would do."
Go ahead and read the whole fascinating story. It's sordid and tragic and mesmerizing, just like Hollywood.