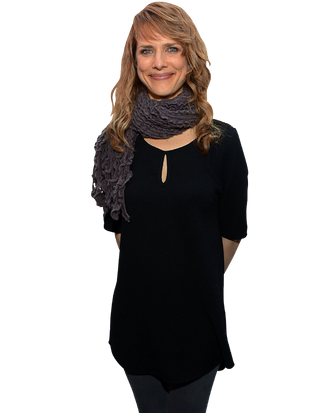 Lynn Shelton.
Photo: Getty Images
Members of the Lynn Shelton fan club now have another film to look forward to: Touchy Feely, which stars Rosemarie DeWitt as a top-rate masseuse who suddenly develops an aversion to skin. Not by coincidence, her hang-up develops right after she agrees to move in with her boyfriend. The film, which premiered at Sundance, takes a less improvisational route than Shelton did with Humpday and Your Sister's Sister. We spoke to her about becoming more of a control freak, respecting masseuses, and acting with Paul Rudd for a totally different movie.
Touchy Feely doesn't have as many free-flowing conversations as your previous films. Were you trying to do something different?
Yeah, I sort of felt like I'd made three films in a very similar vein. I loved it and will probably go back to it, but I felt the urge to try something a little different. Something a little bit more expansive, narratively speaking. The last few projects, I really invited the actors into the process really early on and had gotten to know the characters with them. I just wanted to be a little less collaborative [this time], a little bit more of a control freak and turn around and invite the actors in later on in the process.
What made you want to do a movie about a stunted masseuse?
I like to put people into situations that are out of their comfort zone and see what happens. It's like a little lab experiment, and this idea of somebody who works intimately with bodies of strangers on a regular basis suddenly reaching a threshold — because skin is weird, and bodies are freaky — that was an idea that came to me many, many years ago. It's just been kind of bouncing around the back of my head.
There were a lot of uncomfortable scenes in Humpday and My Sister's Sister — just excruciating, raw moments between people. I didn't get that as much here. Was that by design?
I wasn't trying to avoid that; it was just a different kind of narrative. I think there's a different kind of discomfort. There's awkwardness, and there's tension, and there's discomfort within the character a lot, actually. But, yeah, I feel like everybody is on a journey of self-discovery, so it's a little bit more like everyone's sort of flying solo as opposed to it being this dialogue-driven, relationship-based movie.
Did you talk to any masseuses who've experienced what Abby is going through?
Not specifically, but I would casually talk to people who worked with bodies and did different kinds of body work, like massage, and ask them, "Does that ever come up?" Mostly they had secondhand stories, like I had a friend who had a hard time for a while or there's specific bodies that gross her out. I get massages, and I never think about the person above me and what it must be like. It must just be so intense. I don't think I could do it. I could do it for friends, but just to be able to do anybody? Like you know you have to touch anybody's bodies? It's just so weird.
Can you relate to Abby's predicament? Has anything like this happened to you, where something that used to be second nature is suddenly really difficult?
What I can relate to is being depressed and being lost, losing your moorings. I'm not, like, clinically depressed or anything, but I have bouts of it, bouts of trying to struggle through and figure out a way to heal yourself and ground yourself. Losing your sense of confidence, just feeling "off," like she describes in the film. Some of those scenes were really easy to write. I mean, finding yourself in the middle of a grocery store crying. I'm just like, What is going on?
I noticed you play the voice of Paul Rudd's girlfriend in Prince Avalanche, another movie playing at Sundance. How did that come about?
David Gordon Green — I call him more an acquaintance than a friend friend — but we'd had some very nice interactions and talked to each other over the last couple years. And he called me because he was throwing together a smaller-scale project and wanted to ask about some of the logistics of putting together a project on that kind of scale, and then I guess a producer asked him, "Well, who's gonna play Madison?" And he said, "Lynn Shelton has kind of a nice voice." So he called me up and said, "Would you do this scene?" I spent like an hour on the phone acting with Paul Rudd. It was kind of surreal. Like, Yeah, I'm cool; I'm acting with Paul Rudd. It's no big deal.