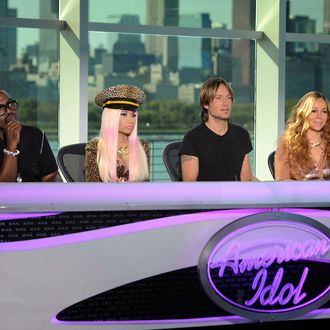 Photo: Michael Becker/FOX
Just under 18 million viewers tuned in for the bat mitzvah/bat-shit crazy season of Fox's American Idol Wednesday. That's a big number by current network TV standards but a relatively puny figure for the musical competition series that rival network executives once called "the Death Star." Last January, Idol pulled in around 22 million viewers, while as recently as 2010, the show scored nearly 30 million with its first broadcast. Overall, the audience for Idol dropped 19 percent from its 2012 opener and was the smallest debut for the show since its 2002 summer launch. Despite the addition of supposed superstars Mariah Carey, Nicki Minaj, and the poor country dude nobody ever talks about anymore, Idol also suffered major erosion among Fox's target audience of adults under 50, averaging a 6.0 rating in this demo Wednesday versus a 7.4 last year. By comparison, last week's episode of CBS's The Big Bang Theory averaged a 6.4 in the same category of younger viewers. Bazinga, indeed.
While losing one fifth of your audience in one year can never be considered a good thing, the Idol decline is hardly a complete disaster for Fox. In its twelfth season, the show seems likely to remain a top-five series and will probably end up ahead of newer rivals The Voice and The X Factor. What's more, it's worth noting that most returning series on all of the broadcast networks are down by double digits this season. There's also a good chance Idol will see a significant boost in its ratings from DVR viewing. And yet: After several consecutive seasons of major erosion, it's clear that while Idol may remain a TV icon, it can no longer call itself a phenomenon.