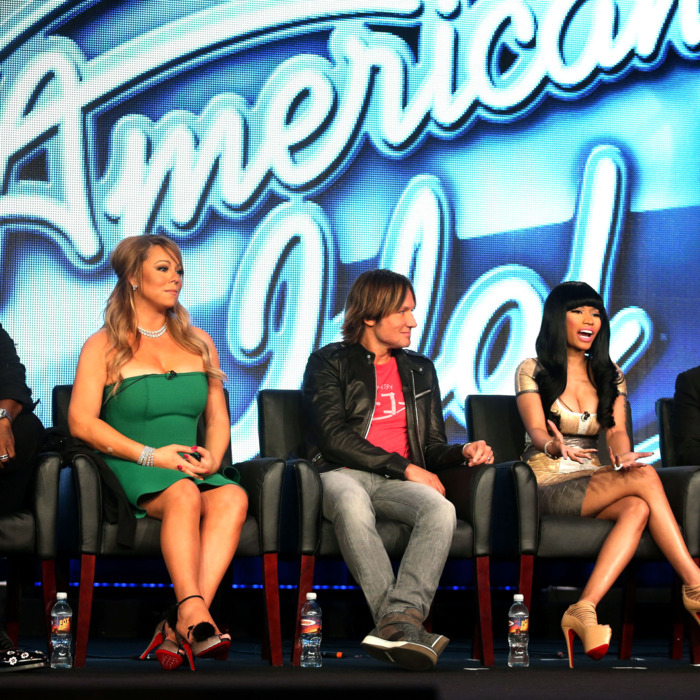 Photo: Frederick M. Brown/Getty Images
Unless the two were putting on a show Tuesday morning during an American Idol press conference — and hell, Mariah was damn fine in Precious, so maybe? — they really don't get along. At first, they were cool with peddling the talking points. A journalist asks whether the feud is real or just the annual pre-Idol drumming up of press. "It's a passionate panel," Mariah said. "The fight is what it is." For her part, Nicki said nothing. So the room pressed on and one reporter requested that the women please say something nice about each other right now. (Remember what I said earlier? About reporters covering the Television Critics Association winter press tour getting punchy?)
Nicki went first. "I say nice things about Mariah all the time. She is one of my favorite artists of all time. To be on a panel with her, it's kind of crazy. All the singers come in aspiring to be Mariah, in terms of talent and in terms of career length … " Well, that's all great. Mariah fliched. "That was a very sweet thing to say." We snickered, and Mariah reminded the room that she and Nicki had worked together very early on in Nicki's career. "We did a song that was from my album and it was called, ironically, 'Up Out My Face.'  It was one of my favorite songs," she said. "And I did feel like she was going to go very far and still have that feeling. I am grateful for anything nice that she or anyone has to say." Not exactly hugs yet, so on we pressed. How did you guys sort things out after the feud? "You know what it is? It's a distraction from the show … Time heals all wounds," Mariah said. No, really, Mariah, we saw the tape! "Oh, that tape. I thought you guys forgot about that after my sex tape came out," Nicki said. "And there it is," Mariah said.
Then it all dissolved into the whole panel talking over one another, but we used our peripheral noise-canceling superpowers to pick up on only what the women were saying. "I did nothing and here we are," Mariah said while Keith Urban, who is also a judge on Idol even though no one remembers him, pretended to introduce himself to Randy. "We are professionals," Nicki said. "It was sort of a one-sided thing," Mariah said. "No, it wasn't!" Nicki snapped back. "See? They don't want a rising star, they want drama." At some point, Nicki and Randy fist-bumped each other, and Mariah rolled her eyes. "This is what happens. Yeah, pound it out." And then Mariah started pointing to her heels. "Can we talk about my shoes? I'm sure we can all agree about my shoes." After that, Nicki rolled her eyes throughout the rest of the session whenever Mariah would speak. To be fair, that included Mariah thanking her nannies for making it possible for her to work on a new record and Idol. "Yay nannies."
And if we're being honest, as you can see in the photo above, Mariah's shoes had a weird bit of fur on top and were not as cool as Nicki's.