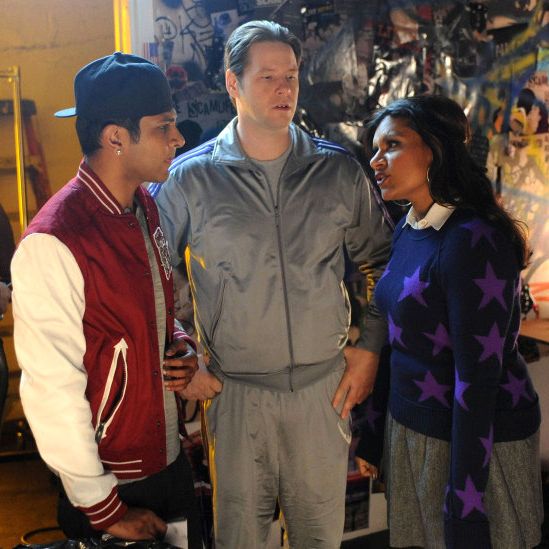 That standout Christmas episode when we last saw Mindy and the gang was a tough act to follow. Given that, this first episode back after the break delivered by bringing the expected meh.
We could've lingered a little in the emotional aftermath of her giant, dramatic, public breakup with Josh, I thought, but, alas, we just landed back in sitcom-land. Mindy's brother, Rishi, showed up to crash with her after dropping out of college, a particular tragedy for her ambition-driven family. She confided in Danny about it while they rode the elevator at work, mainly, it seemed, to give the two at least one scene in which to use their killer comedic chemistry.
We were treated to a reasonably funny (though not up to this show's standards) exchange with the practice's nemesis midwife played by Mark Duplass, whom Mindy called a "witch doctor." This set off a defensive rant about how midwives have been persecuted throughout history, including one who was, Duplass said, "the subject of my injustice-studies thesis at Brown." (Sidenote: I do appreciate that at least the midwives are men. That's an unexpected twist.) He then offered to treat Mindy's "stress-barfs" with hot stone therapy, setting off a bit among the three of them about stones versus rocks versus pebbles ("baby rocks"? or "baby stones"?) versus the Grand Canyon (more about the lack of rock).
As ever, there was a nearly useless B plot involving Danny and Jeremy going to negotiate the office rent and finding that their old landlord had been shipped off to a retirement home by his douchey son. They went to visit the landlord to appeal to him and, in a cute enough moment, helped him win the heart of his crush, Esther. In a twist, she turned out to be married to the guy they'd helped him steal her from, something he failed to mention. And there was a final good line: "She wanted to hear some Korean War stories for a change. That was a man's war." (Maybe I just had a soft spot for this from hanging out at my dad's VFW post with him?)
The main event, Rishi, did deliver as the episode gained momentum in the second half. We were led to believe that Rishi entertained rather ridiculous rapper fantasies as he soaked in Mindy's $16-a-bottle bubble bath scrawling lyrics: "I tried writing rhymes in the shower, but my notebook kept getting wet." He made a case to her that he had to start his rap career immediately because hip-hop is notoriously "ageist," as evidenced by the likes of Lil Wayne and Young Jeezy. "What about that man Old Dirty Bastard?" she asked. "He seems to be doing well." He pointed out that ODB was dead.
I worried that the sighting of Mindy's awesomely Warby Parker–ish glasses frames would be the highlight of the episode, but things did pick up a bit from there. Her brother prepared for his "really important rap battle" with the help of Morgan, who offered a rhyme suggestion for "estranged sister": "deranged blister." Mindy, meanwhile, went undercover to seek hot stone therapy from the midwives under the excellent pseudonym Chloe Silverado. "Sorry I didn't take off all my clothes," she said as he placed the stones on her. Of course, he didn't ask her to. There was a funny bit about how some of the stones were hot and some were cold. "Then advertise it as hot and cold stone treatment," she huffed. "I don't deliver somebody's baby and then instead remove their spleen." The stones, after all, didn't do much for her, despite the fact that she was nearly completely covered in them by the end. But the midwife gave good advice about her brother: She needed to back him up.
In her adorable star-print sweater, she headed straight to the rap battle, where Rishi was freaking out because he didn't have a backup singer to perform his hook. Morgan comforted him with the fact that he was being judged by a white rapper. Mindy considered being his backup singer, but the huge crowd set off her stress-barfs again. (The poor secretaries from Mindy's office were relegated to nothing more than randomly appearing in the audience at the show, evidence that we still have an overstuffed cast on our hands here.) Morgan volunteered: "I did play Effie in the Otisville production of Dreamgirls. My cell mate said it was, quote, 'better than solitaire.'"
The rapper who performed before Rishi reminded the crowd to recycle (loved that), and then Rishi was up. In a quintessential Mindy twist, he was a pretty good rapper — not the disaster we'd expected. Morgan was a terrible backup, though, and Mindy swooped in to save the day. She was not a great singer/rapper, but she helped him get through it, all the while scolding him for the dirtier lyrics: "Okay, I'm not going to say that to my brother." And my favorite: "That's too vivid. Hugging and kissing is fine, too. You're all young." Incidentally, I love this conservative streak she has when it comes to young people having sex, despite her own sometimes-active, and casual, sex life.
In the final scene, we learned Rishi was going back to college and saw him also wearing fantastic glasses. All's well that ends well, though here's to hoping for better things in Mindy's future.
If you want to talk more Mindy, follow me on Twitter: @jmkarmstrong