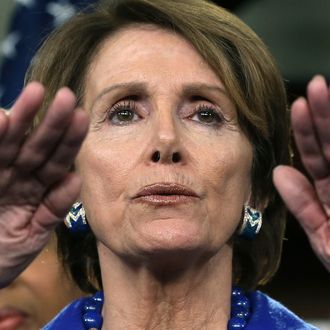 House Minority Leader Rep. Nancy Pelosi (D-CA) speaks to the media as female House Democrats gather around during a news conference at the U.S. Capitol, on November 14, 2012 in Washington, DC. Leader Pelosi said that she has decided continue to lead the House Democrats and does not wish to retire at this time.
Photo: Mark Wilson/Getty Images
Nancy Pelosi will make her scripted TV debut on 30 Rock's hourlong series finale on Jan. 31. We have no idea what the House minority leader is doing in the mix unless it has something to do with Jack Donaghy. Although we wouldn't have been able to guess what Al Gore, Condoleezza Rice, and Michael Bloomberg would do on 30 Rock, either. Pelosi at least knows why she's there, saying, "I would do almost anything Tina Fey asks me to do." Ice-T will also be in the finale.