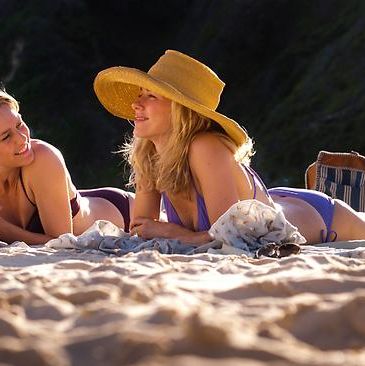 It's only the second day of this year's Sundance Film Festival, and a friend texted me tonight to ask, "What's the best and worst of the fest so far?" Normally I wouldn't have an answer because so few movies have actually screened by this point, but as it happened, I had just come from watching the best movie and the worst movie. In fact, they were the same movie. It's called Two Mothers and it's imperative that you close all your other browser windows and memorize everything I tell you about it, because it is a doozy.
Naomi Watts and Robin Wright star in Two Mothers as Lil and Roz, two blonde BFFs and next-door neighbors who lounge around in so many sleeveless maxi dresses that even Anya Ayoung Chee would say, "Girl, enough." The two lifelong friends live in jaw-droppingly gorgeous houses overlooking the Australian coast, which makes it easy for their strapping twentysomething sons (Xavier Samuel and James Frecheville) to hang out, surf, and keep their lonely moms company. And boy do they keep them company, you guys: Out of the blue, Watts's son decides to bang Wright, who's known him since he was born. Before you can say "revenge fuck," Wright's son seduces Watts in turn. It appears, then, that Australia is quite literally MILF Island.
Now, let's be clear: There are some tony behind-the-scenes talents here threatening to class up the joint. The film was directed by French helmer Anne Fontaine (Coco Before Chanel), and stars two incredible actresses, including current Oscar nominee Watts. Cinematographer Christophe Beaucarne does a tremendous job lighting everyone's bare butts. And the script was adapted by Christopher Hampton (Dangerous Liaisons) from a novella written by Doris Lessing at age 85. Certainly, an old lady couldn't conceive of something as ridiculously smutty-sounding as this premise, right?

Well, she did! In fact, virtually every kind of sexual permutation is teased amongst this foursome — including a literal foursome — even if there's rarely any follow-through. Lil and Roz are constantly mistaken for a lesbian couple, though the only kiss they've shared was an offscreen bout of teenage experimentation. Their sons are equally close and when one is injured, the other silently, gently massages balm into his friend's tanned leg … you know, like heterosexual young men are wont to do. And then there's a scene halfway through the movie where Lil's son is comforting her at night, and mother and son lean their heads together, and it's romantically lit, and they're both wearing hardly anything, and … well. Let's just say it's more suspenseful than anything in Zero Dark Thirty.

Literally 95% of the movie is comprised of the following: swimming, staring, and sex-having. (Often, some of those actions are combined or follow each other in rapid succession.) The dialogue is terse and feels more like it was pulled from foreign language subtitles than anything resembling actual conversation. A pivotal exchange between Lil and Roz, scripted by Oscar winning screenwriter Christopher Hampton, after the two women have just learned that they're, you know, boning each other's sons: "How are you feeling?" Long pause. "Good." Long pause. "Yeah. Me too." In the next scene, all four of them are hanging out together and having a blast. Well, glad that's settled!
After the film, a viewer asked Fontaine if anything surprised her about watching Two Mothers with an audience. "The laughs!" she said, still a little shocked by the response. "I thought it was [received as] a comedy, more or less. I don't know what it means exactly." It means — and we're surely not alone in thinking this — that this classy/trashy mama drama has got to be the most fun you can have at Sundance. Bring the whole family!