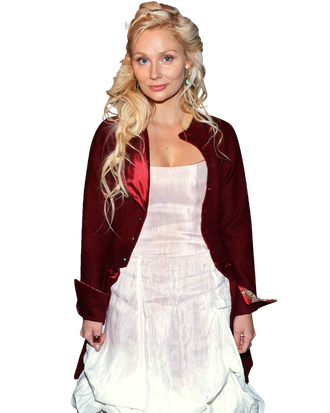 Clare Bowen and Sam Palladio's cover of the Civil Wars' "If I Didn't Know Better" has kind of ruined things for the other women of Nasvhille. The sultry, lip-biting meditation on resisting those primal urges has yet to be topped by anything else on the series' playlist, and Bowen's Scarlett — whose delicate, haunting voice makes up for her being so gun-shy when it comes to Gunner — has emerged as the show's real-deal performer. She is the one you believe could make it on country radio. Will they hook up? The 23-year-old actress won't say — and, really, who cares as long as she keeps making that sweet, sweet music with him? Vulture spoke with Bowen, an Australia-native who says she learned her Southern accent by watching Fried Green Tomatoes, about the challenges of her unique voice and the very good advice Cate Blanchett gave her.
It feels like Scarlett's in her own show. Do you ever even see Connie or Hayden? 
Everybody is going to crash into each other. You got a taste of that at the Ryman when Rayna [Connie Britton] and Juliette [Hayden Panetierre] were performing "Wrong Song." More of that is to be expected.
Scarlett was just watching from afar, though. 
You gotta think back to the pilot, and I can't say more than that.
Oh! I was wondering where that producer guy Watty White went! He got all excited about "If I Didn't Know Better" and then just disappeared.
Yeah, you're on the right track.
So you have spent some time with Connie then. How's that going? 
That scene in the pilot when Scarlett meets Rayna for the first time, that's pretty much me when I met Connie. She was amazing in Friday Night Lights, and I'm just rewatching American Horror Story now because I loved it so much. She told me that's when she adopted her son, Eyob. "Yeah, I did it when I was in murder house."
You're the most seasoned singer on Nashville. When did you start performing?
I was classically trained in operetta from about age 4, I think. Music's always been a big part of my life, but it kind of all happened in one big ball of storytelling rather than splitting acting and singing apart. My family was very encouraging, and both of my grandparents were both beautiful singers. My grandmother was a coloratura soprano, and my grandfather was an Irish tenor in a barbershop quartet.
You starred in a production of Spring Awakening overseen by Cate Blanchett. What kind of direction did you get from her?
Well, Cate was the artistic director of the Sydney Theatre Company. She'd pop in and out and spend time with us when she could. She's actually the one who told me I should come over to the States. I was standing backstage after opening night and she asked if I had thought about moving to Los Angeles, and I said, "Um, that's really scary." But she said I should go and that I would like it. So I did, and here I am. It was just a real honor to have the support of somebody so, I don't know, so excellent at everything she does.
Do you have to mentally switch gears or do anything different when you're singing country?
I'd sung a little bit of it before. Actually, when I was 9 years old, my singing teacher told me, "You know, you have a little country lilt to your voice." It's something I'd always remembered. I liked country music always, but I never imagined I'd end up here. Singing on Nashville has really helped me find my own sound and really validate it because I've always had kind of a strange sort of sound.
Were you ever insecure about that?
It's funny. I met Whoopi Goldberg this afternoon, and it was such a treat because The Color Purple is one of my favorite films. When Tata Vega sings "Ms. Ciely's Blues," it's beautiful and soulful and jazzy and really cheeky, and she has this beautiful unique voice, and I remember feeling really validated by that when I first saw it. It was the first time I thought, Oh, I don't need to sound like an opera singer all the time. That particular song opened my world up to what you could sound like and still be considered good, because before that, I got kicked out of singing class.
When did you get kicked out of singing class?
I don't want to say, but I remember thinking, That's fine. I don't want to sing this way anymore. It's not that I didn't like it, but this is my voice and this is what it sounds like, and I can't help that. Maybe somebody else might think it's all right. I kept singing. I ended up here.
When I spoke with series creator Callie Khouri, she said Scarlett was the most difficult role to cast but that once she saw your audition tape, she knew you were it. What did you audition with?
[Laughs.] I was two hours late to that audition. It was raining, so I also looked like a drowned rat. I sang an Australian folk song, and I guess I did okay because they called me to meet Callie and [executive producer] R.J. Cutler the next day. I had to learn "In the Arms of an Angel" really fast and then I sang it for them, and that was it.
Are you planning to record anything of your own?
Oh, yes, I'm writing at the moment. I've got to find spaces in between when there aren't cameras on me. It's a nice problem to have.
Is your writing process different from Scarlett and Gunner's?
It's very much like that. It starts with an idea. That's all you need. Whichever one gels with the person that you're writing with, you go from there and anything can happen.