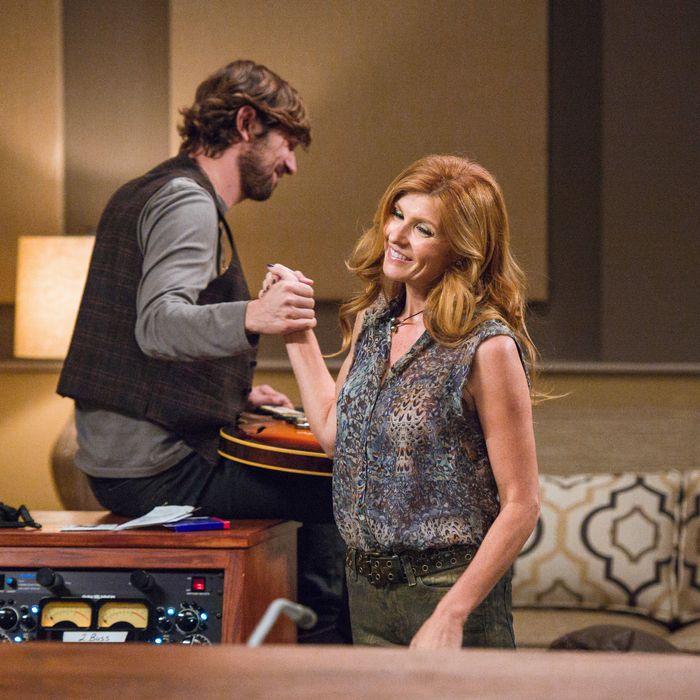 Elopements, betrayals, breakups, makeups: Last night's Nashville served up a whole buffet of plots twists and intrigue. The only thing missing was JWOWW platform diving, but apparently that could be seen on another network.
And yet, with all that going on — and with two of our key male players daring to leave Tennessee (the horror!) — the episode could've been brought to you by the phrase: The more things change, the more they stay the same (y'all).
Take Deacon. He's now touring with the Revel Kings. And even though the band's lead singer is doing his best Goldilocks impression over Deacon's guitar playing ("needs more rock!" "too rock!" and finally "just rock enough"), and even though Deacon is tongue-kissing (and eventually sleeping with) mysterious rock reporters from his past, and even though he's being primped like a pompadoured rock peacock for photo shoots — his heart still belongs to Nashville (and Rayna). We know this, because he stares mournfully out the window while wearing no shirt.
Then take Juliette. Sure, she eloped with her hunky God squad football player and finally got to do the quarterback sneak in the backseat of a limo —but does she have any chance of happily ever after? Not when, as her mama puts it so eloquently: "You gotta hole deep inside you. No amount of marrying is going to quiet your demons." And not when the hunky quarterback's idea of a good time is snuggling on the couch while watching game tape on his iPad. That's the problem with marrying nice wholesome quarterbacks — they're nice … and wholesome. (Not wholesome? Sean's mother, who makes Joan Crawford seem like Carol Brady.)
Finally, there's Avery. In case you missed it, he's recording his demo in the Dirty South, where everything is diiiirty. (Wyclef Jean must be contractually obligated to say the word dirty about five times every episode.) Of course, "dirty" is Avery's middle name, so he'll fit right in. Sure, he feels bad about dumping JT and the boys for a solo career, but not bad enough to, you know, not do it.
Anyway, Avery comes home from Atlanta and makes googly eyes at Scarlett and tells her that looking at her "ruins" him and they hook up. (Oh, Scarlett … ). "That was … " he starts to say, in a postcoital haze. "Never our problem," Scarlett finishes. Then she finds out about Avery's betrayal of his band (i.e, you can take the famewhore out of Nashville but you can't take the famewhore out of the boy) — and leaves him again, for good, supposedly. (Show of hands if you think they're really over … Yeah, just as I suspected.)
Then Scarlett — who randomly develops a spine at unexpected intervals — fills in for Avery onstage with his old band and some troublemaker sends Avery a video of her performance. But who? Has Dan Humphrey moved to Nashville? (If making outdated Gossip Girl jokes is wrong, I don't want to be right.)
As for Rayna, she wants to get as far away from Teddy as possible, so she decides to launch the tour with Juliette ASAP. (Who woulda thunk she'd be running from Teddy's arms and straight into the arms of … Juliette?)
Of course, Juliette sees right through this:
"I thought you hated me," she says knowingly.
"I only hate sunburns and hangovers," Rayna replies. "This is business." (The Sassy Southern Comeback Generator ™ was really working hard on that one.)
Rayna wants to take the girls with her on tour, but Teddy will have none of that because he's a good father. And Lamar will have none of that because he's, well, a bad father — and thinks the presence of Teddy's family is vital to his son-in-law's mayoral run. So he threatens to make like Maury Povich and expose the fact that Maddie is not Teddy's daughter. In a bit of a surprise twist, Teddy already knows the truth about Maddie. (The question is: Does Deacon?)
Meanwhile, Rayna and Teddy discuss their crumbling marriage in the bedroom, with those oversize portraits of their daughters looking down on them creepily.
"Rayna, I never imagined that we'd end up like this," Teddy says. (Really? 'Cause it was kinda obvious to everyone else.)
They decide, for the good of the family, that the girls will stay back in Nashville and just Skype and stuff.
As the show ends, Scarlett and still-hurt Gunnar decide to patch up their differences and write a song together, the impossibly pretty "Change Your Mind," which is apropos because Juliette has apparently changed her mind about Sean and is doing the runaway bride routine. One tiny snag? They're actually already married. (It's official, Juliette doesn't even have the bedrock common sense of Kim Kardashian.)
Random riffs:
• Is it just me or does Nashville have the longest distance between the start of the show and the rolling of the opening credits of any series on television? I always think the credits are some sort of breaking news alert.
• Speaking of breaking news: Actual quote from the meteorologist on the station where I watch the show: "Nashville sure is heating up. And I'll tell you how much hotter we're getting, tonight." No, local affiliate. Just no.
• I finally figured out a way to make Scarlett more palatable (or less palatable, depending on your perspective): With her baby talk and naïf ways, she's the country music version of the manic pixie dream girl, except instead of vintage dresses and high-top chucks, she's got banjos and wooden suitcases. Also, she's less "manic" and more "slightly stoned on klonopin." But you get my point.
• I'm amazed Connie Britton's hair doesn't have its own Twitter account yet. Because it should.