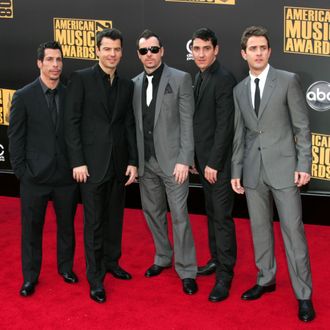 New Kids on The Block arrive at the 2008 American Music Awards held at Nokia Theatre L.A. LIVE on November 23, 2008 in Los Angeles, California.
Photo: David Livingston/Getty Images
What is better than two adult boy bands touring together in the spirit of love and more money? Three adult boy bands touring together! And so New Kids on the Block will attempt to top their 2011 NKOTBSB extravaganza with the Package tour, featuring both 98 Degrees (still reunited!) and Boyz II Men (never broke up!). New Kids are also recording new music, in case your "Step by Step" tape broke in '92 and you haven't gotten around to replacing it yet.