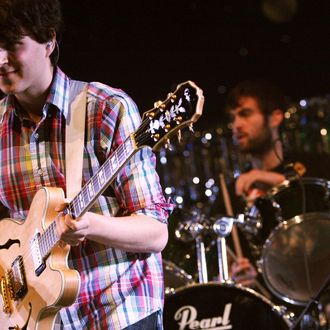 Ezra Koenig of Vampire Weekend on night two of 106.7 KROQ FM's Almost Acoustic Christmas 2009 at the Gibson Amphitheatre at Universal CityWalk on December 13, 2009 in Los Angeles, California.
Photo: Karl Walter/Getty Images
May 7, to be exact. Still no title, so if you still have your "Discarded Vampire Weekend Album Covers" Tumblr going, maybe send a couple of posts their way. No stolen photos, please. UPDATE: Turns out Lemon Sounds is not the title, as previously reported; that was just a fake album cover. Someone took us really seriously.