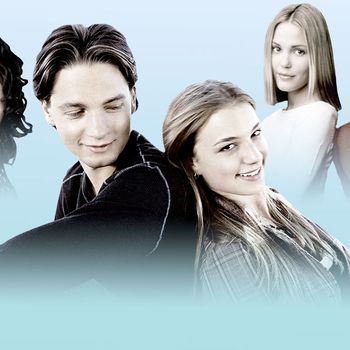 Photo: Everett Collection and Courtesy of WB
The Carrie Diaries premiered to weak ratings on the CW Monday night, possibly entering itself into the canon of CW shows destined to be forgotten. But don't fret too hard, Carrie — that's actually part of a noble tradition, passed down from the UPN and WB. Indeed, lots of great shows toiled in obscurity on those networks, some for many years! And we're not talking about your Buffy or Gilmore Girls or Felicity — those shows both enjoyed enormous critical attention during their runs and continue to rightly occupy prime portions of pop real estate. But there are other shows that seem never to come up, that don't get endlessly dissected or lovingly detailed on Wikipedia, shows that deserved more recognition back in the day and deserve it still now. This list only includes shows that aired on the WB or UPN, not shows that were CW-only. Ah, nostalgia.
1. Nowhere Man, 1995, UPN
Bruce Greenwood starred as a photojournalist whose identity disappears all around him: Suddenly no one recognizes him, and every piece of evidence that he's ever existed is gone. If Nowhere had aired in the Lost era of TV mystery shows, we'd still be wading through tweets theorizing about it. As it is, it's not on Netflix or Amazon, and even the DVDs are out of print.
2. Grosse Pointe, 2001, WB
Darren Star's satirical teen soap about the cast of an earnest teen soap lasted just one season, but it's aged incredibly well and deserves a renewed round of consideration — especially given our insatiable appetite for behind-the-scenes gossip for teen shows in particular. (Glee. We're talking about Glee.) Put this show on Netflix Instant already.
3. Popular, 1999, WB
Speaking of teen soaps, Popular! Ryan Murphy might have three shows on TV at this very moment, but Murhpy's Ur-text will always be Popular.
4. Girlfriends, 2000, UPN
One of the many casualties of the 2007–08 writers strike, Girlfriends never got the finale it deserved (even though its spinoff, The Game, is still on BET). The show is just plain funny, but it flew under most critics' radars for its entire run.
5. Everwood, 2002, WB
Emily VanCamp is the star of Revenge. Chris Pratt is a fan favorite on Parks and Recreation. Sarah Drew makes April bearable on Grey's Anatomy. But no one talks about how they were all on one of the greatest family dramas ever, Everwood! It has all the weeping of Parenthood and the earnestness of an ABC Family show, with a little bit of small-town folksiness thrown in.
6. Roswell, 1999, WB
Like Buffy, Roswell moved from the WB to UPN after low ratings doomed it in its initial home. Unlike Buffy, it seems like no one cares about Roswell, even though the shows both used supernatural elements as a metaphor for the alienation of adolescence. Roswell isn't as witty as Buffy (is anything?), but it was created by Friday Night Lights' Jason Katims, so it's full of feelings.
7. Jake 2.0, 2004, UPN
There was a time when the nerdosphere could not stop talking about Chuck, the show about a geek who gets special powers thanks to some government computer thingie. But what about Jake 2.0, a show about a geek who gets special powers thanks to some government computer thingie? Jake was sharp and funny and exactly the kind of show you expect to be canceled almost immediately, which it was.
8. The Jamie Foxx Show, 1996, WB
The show ran for five seasons and was rerun on BET for years, but most current profiles of Jamie Foxx barely acknowledge that he had his own sitcom for 100 episodes. Guess what? He was great in it.
9. Young Americans, 2000, WB
A Dawson's Creek spinoff with Ian Somerhalder, Charlie Hunnam, and Katherine Moenning should have been superhot. Boarding school! Gender bending! Unbelievably obnoxious product placement! We still can't believe this show didn't catch on.