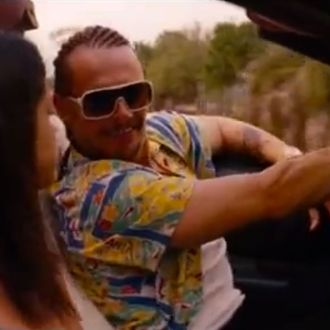 Quick, take off all your clothes and turn the Skrillex up as loud as you can stand it: The trailer for Harmony Korine's "awesomely slutty" Spring Breakers is finally here. Are you ready for James Franco's non–Riff Raff? For gratuitous and likely controversial bikini violence? For Vanessa Hudgens's well-rehearsed sex face? Come, friends, let us break down the highlights.
"Rise and shine, little bitch." Two seconds in, Selena Gomez, Vanessa Hudgens, Ashley Benson, and Rachel Korine are already in bed saying rude things to each other. Excellent pacing!

Handstands in the Inception hallway. Bonus: There are definitely two quick bursts of Inception horn at the 54-second mark. Don't pretend you didn't hear them.

Neon bikinis in the courtroom. Neon bikinis in the courtroom.

"Bikinis and big booties, y'all. That's what life is about." —James Franco, actor, novelist, poet, and filmmaker.

James Franco's car-dancing. A+, totally creepy, would watch again.

James Franco's jumping-on-the-bed face. Related: Be sure to buy your pink ski mask soon; those things are going to be all sold out come Halloween.

Dark tanning oil as aphrodisiac. Just look how turned on Vanessa Hudgens is. Vanessa Hudgens did not phone this performance in.

"Spring breaaaaaak. Spring breaaaaaak. Spring breaaaaaak." Look for the James Franco Spring Breakers soundboard, coming soon to an Internet near you.

The ten perfect seconds of "Hit Me, Baby." Britney lives. Man, is this movie gonna be bonkers.
Update: Here's a bonus international trailer, complete with penis drawings, .5 more seconds of Gucci Mane, and the French translation for "bikinis and big booties, y'all." Bikinis et petits culs, la vie quoi!