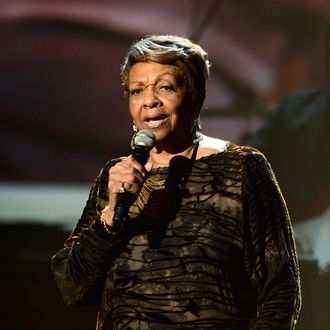 Photo: Michael Buckner/Getty Images
Whitney Houston's mother, Cissy Houston, has written a book that comes out this week, tied to the first anniversary of Houston's death. Cissy's been promoting the hell out of the book, too, in People, USA Today, and on the Today show. But as with all things Whitney Houston, it's not official until Oprah says it's official, which brings us to last night's interview on Oprah's Next Chapter.
The interview wasn't hugely revelatory — Whitney Houston was a beautiful gift given to the world whose spark was snuffed out too early, etc. — but there were a few choice moments.
Cissy Houston is homophobic.
In the book, Cissy writes that she didn't like Robyn Crawford, Whitney's longtime friend. Robyn and Whitney were often rumored to be a couple, which prompted Oprah to ask, "Would it have bothered you if your daughter was gay?"
"Absolutely," Cissy replied.
"It would have bothered you?"
"Mmm-hmmm."
"You would not have liked that?"
"Not at all."
"You wouldn't have condoned it?"
"No."
Cissy did not know the extent of the abuse between Bobby Brown and her daughter.
And she learned about it on Oprah in 2009, along with the rest of us. "I didn't know he had spit on her," Cissy said. If she had known, she says, "I would have hurt him."
She agrees with Bobbi Kristina: Their grandma-granddaughter relationship is "iffy."
"Is it true that Bobbi Kristina didn't want you to write this book?" Oprah asked. "That's what I heard," Cissy replied. Eesh. And she said that she didn't approve of The Houstons: On Our Own, the reality show that stars Bobbi Kristina, because she doesn't like the way her granddaughter is portrayed. (That didn't stop her from appearing on the show.) "Do you think [the show is] exploiting your daughter's death?" Oprah said. Replied the woman promoting a book about her daughter's death, "Some of it."
Bobby Brown didn't introduce Whitney to drugs.
That was her brother Michael, who acknowledged in a brief appearance that he and his sister used to use cocaine together in the eighties. "Bobby was after," he admitted.