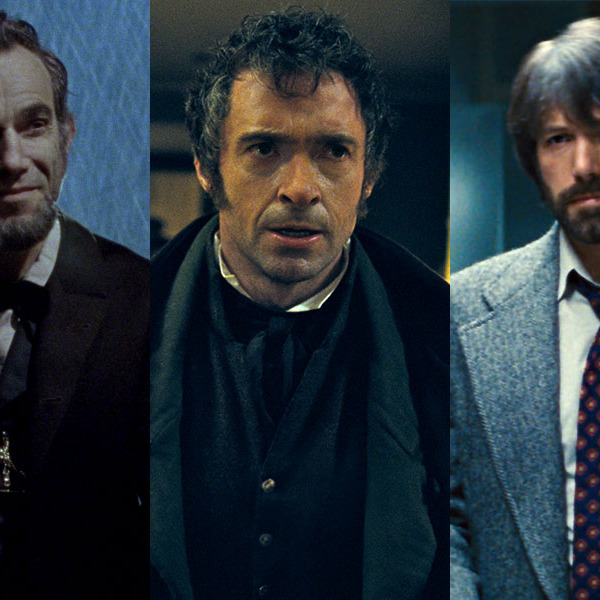 For the past few months, Vulture's Oscar Futures column has been parsing the weekly ups and downs of each contender for the Academy Awards, but now it's time to make our final predictions, as the nominees will be announced tomorrow morning. It's an unusually unsettled crop of awards hopefuls, so plenty of surprises may be in the offing, but we've read enough tea leaves to have a pretty good idea of how this will go. Take a look at our predicted nominees in the top six categories, and let us know if you agree.
BEST PICTURE
Amour
Argo
Beasts of the Southern Wild
Les Misérables
Life of Pi
Lincoln
Silver Linings Playbook
Zero Dark Thirty
How many Best Picture nominees will there be? That's the big question going into tomorrow, and I'm predicting at least eight films will win enough passionate support to make the cut. Even last year, when the Best Picture crop was dominated by The Artist and filled out by other movies received more wanly (like War Horse and Extremely Loud and Incredibly Close), we ended up with nine Best Picture nominees; 2012, by contrast, has several potential nominees boasting ardent, vocal fan bases, with no frontrunner film siphoning votes away. I wouldn't even be surprised if we got nine or ten Best Picture nominees, in which case I'd likely add Django Unchained and The Best Exotic Marigold Hotel to the mix. But did Django screen too late — and polarize too many — to make it into the top eight? Precursor awards have been a mixed bag for the film, though it's doing gangbusters business at the box office.
BEST DIRECTOR
Ben Affleck (Argo)
Kathryn Bigelow (Zero Dark Thirty)
Tom Hooper (Les Misérables)
Ang Lee (Life of Pi)
Steven Spielberg (Lincoln)
Here you have the five filmmakers nominated by the DGA yesterday, and I expect the same five names to be read at the Oscar announcements tomorrow. Online pundits had underrated Hooper and Les Miz, but the film is still a favorite with Oscar voters I've talked to; meanwhile, they'd overrated David O. Russell and Silver Linings Playbook in an awards year dominated by distinctive visual sensibilities and period tales. It's possible that Russell could sneak back into this lineup for the Oscars, but I have a hunch it would be at Ang Lee's expense, not Hooper's.
BEST ACTOR
Bradley Cooper (Silver Linings Playbook)
Daniel Day-Lewis (Lincoln)
John Hawkes (The Sessions)
Hugh Jackman (Les Misérables)
Denzel Washington (Flight)
This category feels pretty solid to me, a five-for-five repeat of the men nominated for Best Actor by the Screen Actors Guild. Yes, The Master's Joaquin Phoenix could be a spoiler, and sometimes actors snubbed by SAG can nevertheless pull out an Oscar nomination, but they usually come from films released late in the year, while The Master has sat in multiplexes for months. And while you could easily find five other worthy Best Actor performances from this year (sorry, Richard Gere, Jack Black, and Jean-Louis Trintignant), none has garnered enough precursor support to suggest a sleeper shock in this category.
BEST ACTRESS
Jessica Chastain (Zero Dark Thirty)
Marion Cotillard (Rust and Bone)
Jennifer Lawrence (Silver Linings Playbook)
Quvenzhané Wallis (Beasts of the Southern Wild)
Naomi Watts (The Impossible)
Months ago, Best Actress was considered to be this year's snooziest category, but not anymore: This group could see the most surprises tomorrow, simply because the precursor awards sent so many mixed signals that it's hard to lock down anyone besides Jennifer Lawrence and Jessica Chastain. Marion Cotillard is a likely number-three pick who has stayed steady, but she's far from a lock. After that, you could make a case for any of the following five actresses: Beasts of the Southern Wild's Quvenzhané Wallis, The Impossible's Naomi Watts, Hitchcock's Helen Mirren, Amour's Emmanuelle Riva, and The Deep Blue Sea's Rachel Weisz. Wallis was ineligible for SAG and snubbed by the Golden Globes, but she turned in one of the year's most talked-about performances, and she'd be this category's youngest-ever nominee, offering an irresistible chance to make Oscar history. Meanwhile, Watts and Mirren did make the SAG shortlist, but I'd give Watts the edge just based on momentum (The Impossible was a recent bow, while Hitchcock has faded from view). And could critics' picks Riva and Weisz surprise? I'm going with my gut and picking Wallis and Watts to fill out the category.
BEST SUPPORTING ACTOR
Alan Arkin (Argo)
Robert De Niro (Silver Linings Playbook)
Leonardo DiCaprio (Django Unchained)
Philip Seymour Hoffman (The Master)
Tommy Lee Jones (Lincoln)
I'm confident in all of these picks but DiCaprio. Django Unchained offers three flashy supporting performances, and while I expect one man to get nominated (or even two, if the film broke through), it's hard to say which one it will be. Leonardo DiCaprio's got the star power and the villainous role that plays most against type. Christoph Waltz has the benefit of a lead performance demoted to supporting in a deft bit of category fraud. And then there's Samuel L. Jackson, who has got people buzzing with an engaged, fiery performance that feels like an artistic comeback. I'm almost tempted to give him the late-blooming edge over DiCaprio, but for now, I'm going to play it safe.
BEST SUPPORTING ACTRESS
Sally Field (Lincoln)
Anne Hathaway (Les Misérables)
Helen Hunt (The Sessions)
Nicole Kidman (The Paperboy)
Maggie Smith (The Best Exotic Marigold Hotel)
Could Nicole Kidman really score an Oscar nomination for the lurid Lee Daniels film The Paperboy? Glory be to the Oscar gods if this camp gem squeaks through! The other nominees feel fairly secure to me, and anyway, it's all over but the engraving: Anne Hathaway is taking home this category's statuette.