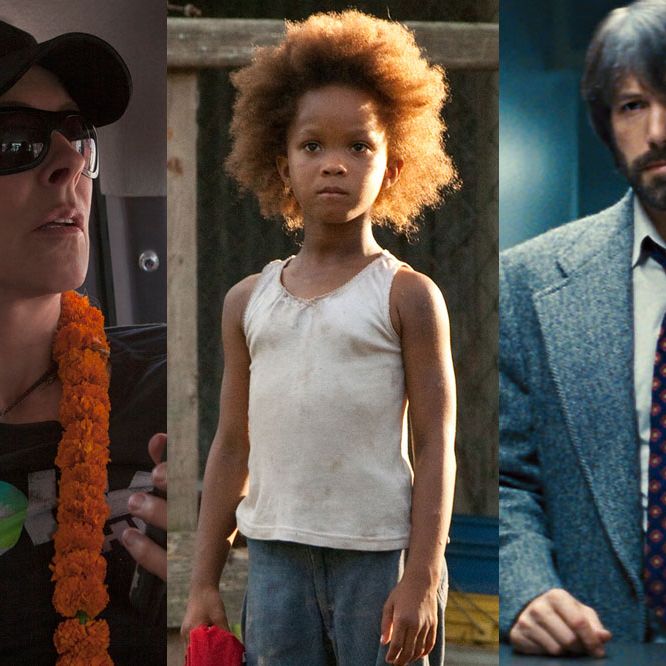 Well, that was a corker. Today's Oscar nominations solicited several gasps from awards watchers, but why should we have expected anything less from a field that's been as fluid and unsettled as this year's? So which films and artists surprised with their strength … and who was left out in the cold? Here are the seven bits that surprised us the most.
1. That Best Director Category … Holy Moly
This was always the most difficult Final Five to get into, and some directing titans were bound to be squeezed out. But still! No Ben Affleck! No Kathryn Bigelow! No Tom Hooper! No Quentin Tarantino! A while back, I'd spitballed that Amour's Michael Haneke would make it in for the most Academy-friendly picture of his career, but then shook my head, thinking there was no way he could elbow past those famous names. Whoops! And how about that other surprise in the Best Director category, which indicates …
2. Beasts of the Southern Wild Is an Oscar Heavyweight
This small summer release was an indie gem, but many pundits worried that it wouldn't make the Best Picture short list, and that young lead Quvenzhane Wallis might be snubbed in the Best Actress category. Well, not only did those two make it in, but first-time director Benh Zeitlin shocked everybody (probably even Fox Searchlight, the film's distributor!), by trumping Affleck, Bigelow, and the rest in Best Director. Sadly, though, the Academy overlooked Zeitlin's magical Beasts Score, which he co-composed.
3. Leonardo DiCaprio and Samuel L. Jackson Go Lacking for Django
As predicted, there were four mortal locks for the Best Supporting Actor category — Alan Arkin, Robert De Niro, Philip Seymour Hoffman, and Tommy Lee Jones — with a fifth slot left over for Django Unchained, which found its cup runneth over with potential nominees. In the end, Christoph Waltz edged out the equally flashy Leonardo DiCaprio and Samuel L. Jackson, completing a category made up solely of former Oscar winners.
4. Joaquin Phoenix Made It Back In
After The Master's Joaquin Phoenix was snubbed by the Screen Actors Guild, it was touch-and-go whether he could sneak back into the Oscars' good graces. Though he did make it into the Best Actor category, it came at the expense of John Hawkes, whose terrific work in The Sessions just missed the cut. All that, after Phoenix intimated he didn't even want a nomination!
5. The Intouchables Snubbed in Best Foreign Language Film
This Harvey Weinstein–backed worldwide smash was considered by some to be the spoiler to Amour, a feel-good French dramedy that would triumph with Oscar veterans who vote with their hearts, not their minds. And then it didn't even get nominated! Well, maybe the remake — which director Paul Feig hopes to team Colin Firth and Chris Tucker for — will have better luck.
6. No Marion Cotillard in Best Actress
Ouch! We're happy that Emmanuelle Riva and Quvenzhane Wallis made history as the oldest and youngest nominees ever in this category, but no love for Cotillard, whose Rust and Bone performance was perhaps the strongest of the year, if not her entire career?
7. Jacki Weaver???
Remember when Jacki Weaver's Best Supporting Actress nomination for Animal Kingdom felt like a triumph? Today's nod for Silver Linings Playbook was even more unlikely, as most pundits expected Maggie Smith from The Best Exotic Marigold Hotel to take her spot. Meanwhile, another SAG-snubbed Master actor, Amy Adams, crept back into the category at Nicole Kidman's expense. Sadly, that means that the utterly wackadoo The Paperboy won't get its sweaty hands on an Oscar nomination. Woulda been fun!