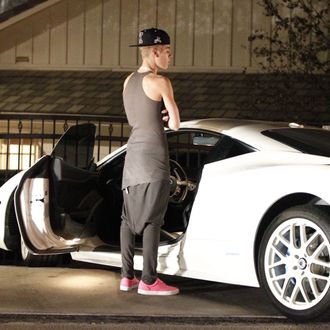 Bieber with his Ferrari in November.
Photo: FameFlynet Pictures
TMZ and the L.A. Times are reporting that a photographer trying to snag shots of Justin Bieber was struck by a vehicle and killed on Tuesday night in Los Angeles. Bieber's white Ferrari had been pulled over by the California Highway Patrol for a standard traffic stop, the Times writes. "The photographer got out of his car to shoot the scene. The paparazzo was hit by a passing car when he was running back across Sepulveda to his car, the sources said." According to TMZ, "Bieber was DEFINITELY not driving at the time. It's unclear at this point who was driving, and if Justin was even in the car." All the same: Yikes. Weeks after a plot to murder him was thwarted, the Biebs must be feeling at least a little strange. Also recall that a little over a month ago, Bieber held up traffic arguing with paparazzi while driving the same Ferrari. Details are still emerging.