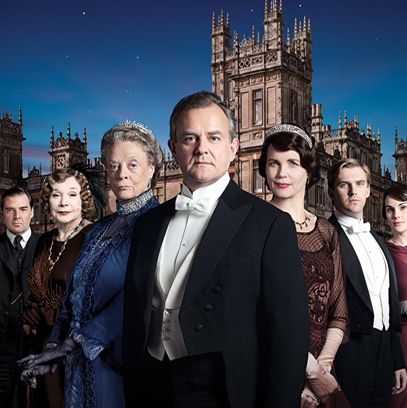 With the season 3 premiere of Downton Abbey rapidly approaching, fans everywhere have been mulling over how to appropriately mark such a momentous occasion. And what better way to do so than by having your nearest and dearest period drama-loving friends over for a proper Edwardian evening?  From decorating tips to appropriate attire to food and drinks, here are some simply smashing ideas guaranteed to make your soiree an affair to remember.
Attire
For true Downton Abbey fans, coming dressed in period clothing should be a no-brainer. The gents should be encouraged to break out their best tweed, or at the very least a spiffy suit. As for the ladies, now's the time to get creative. Repurpose that old bridesmaid dress hanging in your closet with some lace, and add some gloves, pearls, and a fancy hat to complete the look. See that broach collecting dust on the dresser? Go for it. Have some extra feathers lying around? Grab some hot glue and make a festive headpiece. Embrace your inner Countess!
Décor
If by chance you're hosting this soiree outside of an English castle, there are a few fun, easy ways to Britain-ize your pad in a pinch. Silver candelabras are a great start to set the mood, and simple centerpieces for your linen-covered table may be made with bowls of fruit, candles, and clusters of small vases filled with pink, yellow, and white roses. If you feel like splurging for some added authenticity, hire a butler for the evening to greet guests as they arrive and help serve your expertly prepared food and drinks.
Cuisine
Meals were a big part of life in Edwardian times, and the dining experience was of particular importance to the noble classes, as it denoted wealth and social status. If, like us, you'd rather not spend hours preparing a massive, gut-busting dinner like they did in the days of yore, here are some simple alternatives for period-appropriate snacks:
- Traditional cheese plate with crusty bread or water crackers
- Oysters on the half shell with mignonette sauce
- Cucumber finger sandwiches (with the pesky crust cut off, of course)
- English trifle with layers of cake, pudding, fruit, and cream – delish!
For post-premiere recapping, make sure to have some tea and crumpets nearby for added authenticity.
Drinks
Nothing says "I'm fancy and I'm at Downton Abbey" like a glass of brandy, but feel free to offer your guests traditional tipples like French champagne, sherry, wine, and port. For a stronger libation, go all out with the Downton Abbey cocktail (yes, it's real):
- 3 parts Hendricks gin
- 2 parts St. Germaine elderflower liqueur
- Half a lime, squeezed
- Top with champagne
If the soiree still needs a little jolt once the episode begins, have your guests to take a shot every time Maggie Smith's dowager makes a cutting remark. Not only does it keep things interesting, but if you've somehow managed to screw up all of the above, be assured that your rosy-cheeked chums will care less and less as the night goes on. Either way, in the words of our favorite Dowager, "Don't be a defeatist, dear. It's very middle class."
Downton Abbey airs Sundays at 9/8c on Masterpiece on PBS.