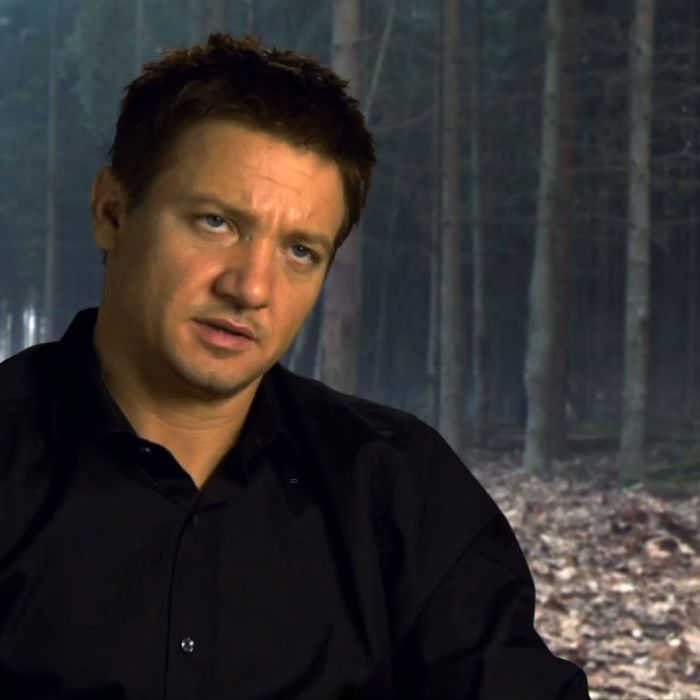 It's hard not to feel bad when seeing Jeremy Renner in ads for Hansel & Gretel: Witch Hunters. The film was shot years ago, before The Avengers made a zillion dollars and before he starred in The Bourne Legacy. It was supposed to come out March 2, 2012, but was pushed back to Friday. It's a classic dump that studios do annually in January — no biggie. The problem for Renner is he still had to do press for a movie he knew was going to do poorly and he probably knew was terrible. (It currently has a 15 percent on Rotten Tomatoes, and our critic wrote: "The film fails to actually do anything with the idea, except to keep highlighting how awesome it thinks it is.") Renner might be a great actor with two Oscar nominations to his name, but he just couldn't pretend to care about this film. Let us walk you through Jeremy Renner's dispassionate promotion of Hansel & Gretel: Witch Hunters.
In November, Renner hosted SNL. Where most hosts would mention their next project during their monologue, Renner says nothing.
In his Access Hollywood interview, when his co-star Gemma Arterton says what a joy it was working with him, he just grunts at her — and then follows it up with some pained laughter.
He spends much of this interview looking down, which is a pretty clear sign that someone does not give a shit. When he does look up, he looks like he hates describing how they are able to kill witches.
Most interviews are with him and Arterton. He lets her answer most questions. He also spends almost the entire time looking at her and not the interviewer.
Here, he does answer the question, but he mostly uses his time to complain about fairy tales and make jokes to himself.
Here he is on the Today show wearing as much black as possible. There is a sense that, when he's not talking, he wishes his turtleneck went over his head.
And here he is on Fallon. Does he step it up for national television? Nah. He hates joking around about the film, and when the clip ends, he gives a nice, patronizing "woooooooo."
For comparison, the next night, he was on Letterman. Look how much happier he is talking about flipping houses and not this movie he's in.
This clip says it all. He's hunched over, grimacing when he isn't talking and mumbling when he is. Around the three-minute mark, he couldn't look more unhappy to call working on the film a "wild adult ride."