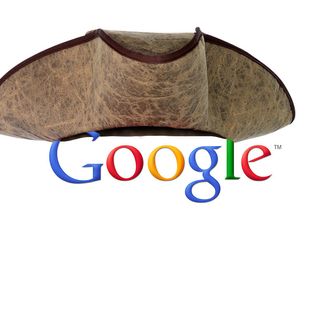 Photo: Google, fancydressball.co.uk
Piracy of movies and music has long been viewed as an unwinnable game of whack-a-mole for Hollywood's film studios and record labels, but a new study from University of Southern California has widened the lens of responsibility from torrent sites like FilesTube and SUMOTorrent to the online ad services whose robots place advertising on these sites, and therefore help fund them. The report from USC's Annenberg Innovation Lab claims to establish "the direct link between the top ten online advertising networks and their support of the major global pirate movie and music sites" by actually naming those who place the most ads onto these illegal-download hubs. Among those listed are arcane online media companies you'd probably only have heard of if you bought and sold advertising for a living – but there were also two surprisingly familiar ones: Google (No. 2 on the report's list) and Yahoo! (No. 6).
Google makes an astonishing $100 million-plus a day from advertising. Part of this princely sum, of course, is from those ads that appear next to whatever you just Google-d on its namesake search engine. But a big part also comes from Google's "display network" of ads: A company (or anyone) buys in and their advertisements pop up randomly on Gmail, Blogger and YouTube, as well as on – and here's the tricky part – over 2 million Google advertising "partner" sites that share revenue with Google for hosting these ads. To join the network, the partner sites (which aren't owned or controlled by Google) must agree to Google's terms of service, which technically bars copyright infringement. But if they do host illegal video, the onus has largely been on the copyright holders to object. 
Not surprisingly, being named as the enabling parties for multi-billion dollar global pirate movie and music sites prompted immediate responses from spokespeople at both Google and Yahoo! denying any such link. "We have not seen a copy of this report and don't know the methodology," wrote a Google spokeswoman in an email to Vulture, "but to the extent it suggests that Google ads are a major source of funds for major pirate sites, we believe it is mistaken. Over the past several years, we've taken a leadership role in this fight, partnering with industry organizations to cut off the flow of money to piracy sites, as well as investing significant time and money to keep copyright-infringing content out of our network. The complexity of online advertising has led some to conclude, incorrectly, that the mere presence of any Google code on a site means financial support from Google." A Yahoo rep emailed to restate the policy of its ad network, Right Media, that prohibits unauthorized copyrighted material and blocks transgressors: "We take several active steps to enforce this policy using a combination of targeting technology and human intervention to locate, isolate and eliminate suspect sites."
By focusing the fight against digital piracy on global advertising networks, USC's report is raising nettlesome legal issues. Digital networks are like the unmanned drones of advertising: If they do something illegal that they weren't specifically programmed to do, is that a human or company's fault, or just blameless computer error? For his part, Jonathan Taplin, the director of the Annenberg Innovation Lab, is hopeful that the brands advertising on these networks will self-regulate, checking to see if their ads are popping up on illegal-download sites and, if they are, demanding that they be taken down or sever ties with the ad network. But it remains to be seen if Hollywood – which claims to lose $20.5 billion a year to piracy – will find that to be sufficient. Almost exactly a year ago, the MPAA was busily flogging the widely-derided Stop Online Piracy Act (SOPA) in Washington; the Annenberg Lab report will likely reignite the MPAA's eagerness to fight that battle all over again.