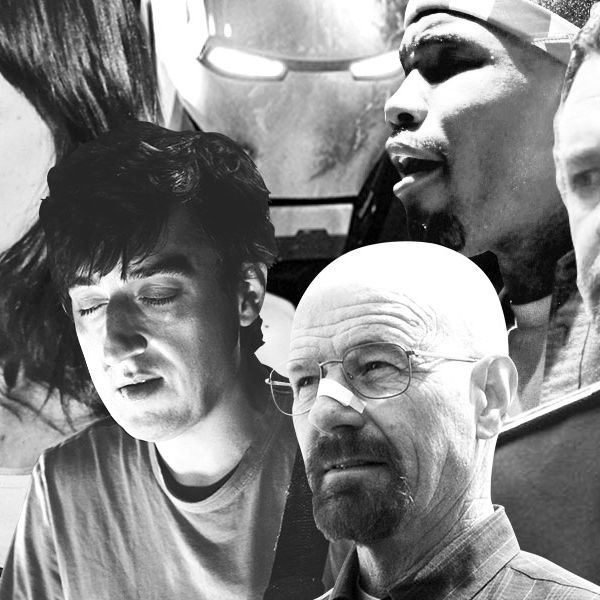 No humblebragging here, dear readers. We'll be straight up with you — we're very happy with all the work we did last year and we're even happier that you continue to visit us for your daily (hourly?) injection of pop culture goodness. Here's a long look back at our favorite pieces, videos, illustrations and advent calendars (fine, there was just that one) from 2012. We're looking forward to seeing you often in 2013.
MOVIES
Vulture's 100 Most Valuable Movie Stars
An Aural History of the Inception Horn
How Does Silver Linings Playbook Handle Mental Illness?
How Is It Spelled: Les Mis or Les Miz?
12 Movie Posters in Which Denzel is Not Effing Around
Vulture Ranks All 28 Steven Spielberg Movies

Its OK For Action Heroes to Get Hurt 
Movie Trailers Do Not Need Their Own Trailers

Can Kate Hudson Escape the Rom-Com Curse?

Who Is The Master's Master Masturbator?

Does Disney Have An Identity Crisis?
The Best Performances in the Worst Oscar Bait
The Inside Story of How John Carter Was Doomed By Its First Trailer
Polone: The False, Circular Logic Behind Hollywood's Resistance to Black Entertainment

How Being Big in Japan (Or Germany. Or Russia.) Gets A Movie Made.
Have A-List Directors Become Too Married To Their Franchises?

Magic Mike: The Gathering Trading Cards
Who Does Daniel Day Lewis Sound Like in Lincoln?
Vulture's Les Miserables Advent Calendar
How to Tell Sundance Filmmakers That They Got In

How Many Years is Best Between Movie Sequels?
Vulture Awards: Celebrating the Year in Channing Tatum
Apocalypse Nikki: Polone Challenges the Power of the Vengeful Nikki Finke
When Did Matthew McConaughey Become Interesting?
Polone: The Unglamorous, Punishing Hours of Working on a Hollywood Set
How To Shoot Instagram Photos That Look Like Your Favorite Directors Films
The Definitive Tom Hanks Matrix
The Definitive Bill Murray Matrix
Six Lincoln Limericks to Text Your Loved Ones
Can The Romantic Comedy Be Saved?
Ask an Economist, Which Bond Villain Plan Would Have Worked?
How To Hunt Bill Murray In the Wild
Steven Spielberg's Cinematographer Talks To Vulture About How He Got These 11 Memorable Shots
See Vulture's Map of the Comedy Zeitgest
TV
Vulture's Drama Derby: What Is The Best TV Drama of the Past 25 Years?
Vulture Finds the 25 Most Devoted Fan Bases
Video: The Sounds of Mad Men Season Five
Why Loving America's Funniest Videos Is Not A Shameful Act
Claire Danes Cry Face Halloween Mask
Photos: The Game of Thrones cast in and out of character
The Sum and the Parts: In Defense of TV Recaps
Seitz Asks: What's the Scariest Image You've Seen in a TV Series?
Print out Vulture's Girls Paper Dolls
Ten Classic 30 Rock Jokes Told As Infographics
Is Don Draper Mad Men's Angel of Death?
The Best and Worst Closing Songs on Mad Men
Lines from American Horror Story or Fake Porn?
Video: Are TV Shows overusing Coldplay's Fix You?
Why No One Should Be Shocked By Joan's Big Move on Mad Men
Girls: From Lightning Rod To Must-See TV
The Best and Worst Closing Songs on Mad Men
Video: Watch Breaking Bad's Walter White Chew Out Jesse Pinkman Over and Over Again
Why Is Everyone So Mad at Homeland?
Video: See Every Killing from Game of Thrones In Under a Minute
Vulture Ranks Twenty Awkward Louie Dates on a Shame-O-Meter
The 239 Issues Tackled By Degrassi So Far
Cable's Whitney Houston Coverage Was a Bumbling Intruder at a Wake
What Shenanigans Will Nicholas Brody Get Into Next?
Seitz: Why Fans Should Stop Trying To Bring Back Dead TV Shows
See Vulture's Breaking Bad Playing Cards
Why TV Apocalypses Are Really Wish Fulfillment Fantasies
How The Best Shows Are Turning Viewers Into Shrinks
33 Facts You Learn About Mindy Kaling By Hanging Around Her
Take a Tour of Debra Messing's Remarkably Terrible Wardrobe on Smash
Skyler's Many Hate Faces on Breaking Bad
The Watercooler is in The Cloud
When Vulture Took a Spin Class Taught by New Girl's Schmidt
The Hard Truths Behind Dan Harmon's Ousting
Vulture Ranks Aaron Sorkin's TV Characters
Polone: Why Animal Practice is Animal Cruelty
A Buster Bluth Goosebumps Novel
Video: Vulture Wrote a Better Homeland Theme Song
Your Guide to Nashville's Indistinguishable Men
Video: Vulture's Ad For Leslie Knope's City Council Campaign
Why The Sitcom Spinoff Isn't Coming Back
How Dexter's Grossest Murders Were Staged
Video: Amazing Moments From Dina Lohan's Dr. Phil Interview
Vulture Goes Down the Mandy Patinkin YouTube Rabbit Hole
A Guide To Each Breaking Bad Death and How Sad It Was
Why Pay Cable Can't Let Netflix Have All the Movies
MUSIC
Grizzly Bear Is Indie Rock Royalty. But What Does That Buy Them in 2012?
Hiding Out With Fiona Apple, Musical Hermit
Who Is Each Song on Taylor Swift's Album About?
Why Frank Ocean's Coming Out Was Unique
Michael K. Williams Reveals His Omar From The Wire Music Playlist
Why Gangam Style Is a Hit With People Who've Never Listened to K-Pop
In Which Photo Is Lana Del Rey's Head the Heaviest?
The Boss is Hungry: Every Food Item Name Dropped In A Rick Ross Song
Vulture Finds A Less Drug Bust-y Route Through Texas For Musicians
Whitney Houston and the Burden of Perfection

ART
Saltz: This Is Why I Hate Big Money Auctions

Saltz's Devastating Post-Sandy Tour Through Chelsea's Art Galleries
Is Glenn Beck's 'Obama in Pee-Pee' Actually Art?
Edelstein and Saltz Spar Over Marclay's 'The Clock'
BOOKS
Vulture Ranks All 62 Stephen King Books
The Thinking Woman's Guide to 50 Shades of Grey

The 50 Worst Synonyms in 50 Shades of Grey
All The Ways Jack Reacher Kicks Ass Over 17 Novels
Michael Chabon May Just Be The Perfect Writer For the Obama Age