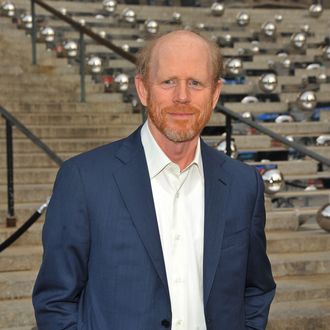 When Barack Obama said that "Israel's security is paramount" a couple of years ago, we had no idea he meant Paramount Pictures.
But the tunnel that connects Tinseltown to Tel Aviv is getting a little more crowded: Vulture has learned that Ron Howard has just attached himself as a director to Kol Ma She'Yesh Li (in English, All I've Got) — an until-now obscure 2003 Israeli TV movie of the week that J.J. Abrams's Bad Robot is developing as a theatrical feature at Paramount.
The original property was written and directed by Margalit Keren, an Israeli screenwriter who wrote numerous episodes of Be'Tipul, a hit Israeli show that itself would later be exported to HBO as In Treatment the same way the Israeli TV series Hatufim wound up on Showtime as Homeland.
We're told that All I've Got is equal parts The Notebook and — if we're not dating ourselves too much — Albert Brooks's Defending Your Life: a fantasy-thriller about a young, very-much-in-love man and woman who get into a freak car accident in which the man is killed. Though the woman moves on and marries another man with whom she has three children, her own death 50 years later only opens more doors. In the afterlife, she is given the choice of forgetting the memory of her life after the accident and becoming young again to be with her first love, or choosing to remain as she is and waiting for her second husband's death.