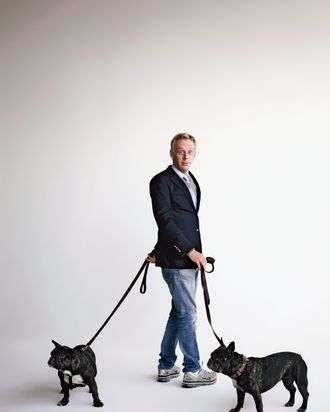 Photo: Art Streiber/AUGUST
Hiding under a cap that declares LIFE'S RAD, Mike White sits in a Los Angeles café, biting his nails and perusing the menu's vegan options. "Hey, man," says the 42-year-old Pasadena native, rather dudelike, when I arrive. He speaks with the endearing crackle of a postpubescent boy, but as a writer-director-actor-producer, White's honed a deeply resonant voice, sharply attuned to the mortifying horror of becoming an adult.
Over the past fifteen years, he's delivered a memorable array of earnestly embarrassing fuck-ups. After writing for Dawson's Creek and Freaks and Geeks, he helped broaden then-neighbor Jack Black's blunderbuss appeal with the scripts for School of Rock and Nacho Libre. White had a Sundance hit in the dark 2000 comedy Chuck and Buck, in which he played, as he puts it, a "lost, gay predator retard." People walked out of the first screening, and he left the theater thinking he was going to vomit, but the experience emboldened him.
 "I'm attracted to polarizing characters who upend the civility of life," says White, now the co-creator and showrunner of HBO's Enlightened, a satire about New Age idealism and corporate espionage. The series, currently in its second season, continues to preach White's gospel—Blessed are the awkward, for they shall teach us grace—but this year the plot thickens, with even more cringe-inducing developments. "It's not that I get off on making people squirm, but it's good for them," he says. "The purpose of making people feel uncomfortable is to play with their preconceptions. Everybody deserves compassion. We're all imperfect. I'm a weird guy. I'm practically albino. What about me isn't weird?"
Consider the evidence: White is the son of Lyla, former executive director at the Pasadena Playhouse, and Mel, a preacher and past ghostwriter for Jerry Falwell and Pat Robertson. "He would mix pop culture into his theology, and write sermons like 'The Scriptures According to Maude,' " White says of his dad. In 1994, Mel came out of the closet and became a gay activist. "It rocked my world for sure, but it made sense," remembers White, who had a childhood obsession with Edward Albee's Who's Afraid of Virginia Woolf? "It fit a narrative that I was already intrigued by—the secret lives people live behind closed doors."
Mel's disclosure stole Mike's thunder. "For me, being not straight was weird, but it was also fun to be different," says White, who shares his Santa Monica home with French bulldogs Ginger and Tootsie and is currently in a relationship with a fellow named Josh. "I like the idea that everybody has to grapple with sexuality. Maybe I want to problematize it, because being different forces you to be free of conventional expectations."
White unleashed himself at Wesleyan University, which provided "culture and sophisticated Jewish kids from New York," he says dreamily. "I still think of heaven as a liberal-arts school. They had to drag me out of there." Ironically, his first writing job upon returning to L.A. was "a stupid college-party movie, Dead Man on Campus, and early on the director said, 'I don't want you on the set.' " Henceforth, White wrote scripts with characters he could play. "Acting is a challenge and a potential embarrassment," he says, "but it's a way to participate without being sent back to your cave to write."
Though he's modest about his performances, White has come to embody a type—gawky, geeky, and socially inept—in over a dozen roles, including the aptly named Ned Schneebly in School of Rock. In Enlightened, he plays Tyler, a computer nerd so seemingly insignificant that White can't even recall if he gave the character a last name. The role is given greater heft this season with the introduction of a love interest, played by Molly Shannon. The characters' consummation is consummate: Fumblingly shy, White appears in a doorway stripped down to tighty-whities. "I didn't want to be in my underwear," he says, "but after seeing Lena Dunham's nooks and crannies, I had to put it out there."
But Enlightened is more autobiographical than graphic. In the pilot, protagonist Amy Jellicoe (Laura Dern) comes unglued and is packed off to rehab. White himself suffered a nervous breakdown as a showrunner on his 2004 Fox comedy Cracking Up. And he sees some of his father in Dern's messiah-martyr character. "I haven't really parsed this until just now," he says. "But my dad wanted what Amy wants—to be good, and to be seen as being good."
White, too, has grappled with self-realization. He once underwent thrice-weekly sessions with a Freudian analyst but quit when the therapist refused to disclose why a nun was lying on a coffee table in the reception area. "The unexamined life was preferable," he says. In the wake of the 2008 Writers Guild strike, he made an audition tape for reality-competition show The Amazing Race. "I wanted an adventure," he says, "like running a 6K through Siberia in my underwear and boots, being chased by a dwarf." He and his father competed as a team in 2009 and in a 2011 all-star edition.
"The way I live my life is eccentric," says White. "I can just float around. I know what it's like to feel like everyone else got invited to a party and you didn't, but I never felt loneliness, and I don't even think I understand what that is. I'll always be the guy on the outside looking in."
White is currently adapting Santa Wars, about a battle within a union of mall Santa Clauses, from a "This American Life" segment, and recently produced the forthcoming horror flick Magic Magic by Sebastián Silva, the gay Chilean who directed the 2009 art-house hit The Maid. "I am never going to write the story about the guy with the wife and kids." In fact, the only little feet White has heard at home were the sound of the rats he recently discovered in his kitchen. "I found a humane way to catch them," he says, grinning impishly. "Then I drive over to the rich part of Santa Monica and let them go."
*This article originally appeared in the January 28, 2013 issue of New York Magazine.