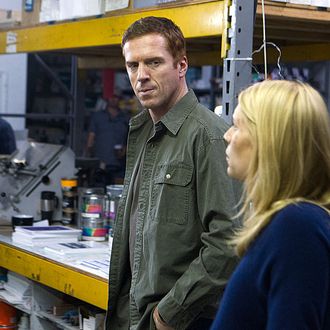 Photo: Kent Smith/Showtime
There was a lot of hand-wringing over Homeland's divisive second season, and series showrunner Alex Gansa has already addressed plenty of it. During Saturday's TCA session, it was Showtime president David Nevins's turn. When asked for his thoughts on the show's creative ups and downs, Nevins told reporters that he loved the second season – "I think it started really strong and it ended really strong," he said – but conceded without getting into specifics that "some of the criticism seems fair." Nevins did seem to indicate that things would look very different in its third season. "Homeland is a show that is incredibly changeable … and can go in a lot of different directions," he said. "I think Homeland is in a very interesting place. [The producers] made the decision to end this season with a fairly clear set-up for season three, which is kind of the opposite to where they ended season one." What does that mean for Damian Lewis' Brody? Nevins would not say whether or not the Emmy-winning actor will be back as a series regular.
Nevins was even more tight-lipped when it came to Dexter. "There is a clear endgame in place," he said, promising answers before the eighth season premieres this summer. "I just can't talk about it right now. Dexter returns earlier than normal this year, June 30 at 9 p.m. It will lead into the cable network's new drama Ray Donovan, starring Liev Schreiber as a Hollywood "fixer."
Elsewhere on Showtime's 2013 schedule: New seasons of Nurse Jackie and The Borgias return on April 14; the final four one-hour installments of The Big C will launch April 29; Lisa Kudrow's Web Therapy will be back in the summer; and the third season of Homeland will premiere Sept. 29 at 9 p.m. followed at 10 by Masters of Sex, starring Michael Sheen and Lizzy Caplan as real-life pioneering sex researchers. A new season of Episodes is due in early 2014. On the doc side, R.J. Cutler's The World According to Dick Cheney will premiere next week at the Sundance Film Festival and March 15 on Showtime. James Cameron's climate change docuseries Year of Living Dangerously premieres in the fall.